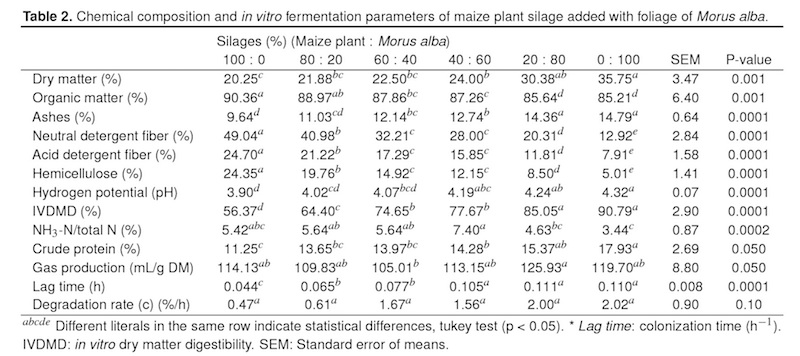 Chemical composition and ruminal digestion of corn silage with Morus alba L. foliage
Abstract
Chemical composition and ruminal digestion parameters were mea- sured in the silage of the whole corn plant (Zea mays L.) mixed with mulberry foliage (Morus alba L.) in ratio of 100:0, 80:20, 60:40, 40:60, 20:80 and 00:100% of fresh forage weight, respectively. The 40:60 ratio of corn: mulberry increased crude protein content (CP = 14.28%) and decreased hemicellulose (12.15%), neutral (NDF = 28.00%) and acidic (ADF = 15.85%) detergent fiber, compared to 100: 0% ratio, respectively, which led to a 21.3% increase in in vitro dry matter digestibility (IVDMD). Also ammoniacal nitrogen 7.40% (NH3-N/total N) was higher in the ratio 40:60%, with pH of 4.19 which is normal for silages, which translates the buffer activity correct of ammonia and its importance for silage fermentation stability. The correlation (r = 0.61, p < 0.001) indicated that at higher CP content, higher is IVDMD and hemicellulose (r = -0.99), ADF (r = -0.98) and NDF (r = -0.98) indicated that these fibrous compounds decreased IVDMD (p < 0.001). The regression showed that the increase in content CP (0.555%, p < 0.01) and IVDMD (0.3391%, p < 0.001) with the decrease of NDF (-0.3526%), ADF (-0.1623%) and hemicellulose (-0.1903%) (p < 0.001) in mixed mini silos, was attributed to mulberry foliage addition. It is concluded that the contribution of dry matter and nitrogen of mulberry, decreased the fiber content and increased digestibility parameters of silage when it is elaborated in ratio of 40:60 corn and mulberry, respectively.
Keywords
Mulberry; association crops; silage; digestion parameters; ammoniacal nitrogen; lag time;
DOI:
http://dx.doi.org/10.19136/era.a7n1.2228
ECOSISTEMAS Y RECURSOS AGROPECUARIOS(ECOSYSTEMS AND AGRICULTURAL RESOURCES), Year 6, Issue 18, september-december 2019, is a triannual journal edited, published and distributed by the Universidad Juárez Autónoma de Tabasco, Av. Universidad s/n, Zona de la Cultura, Col. Magisterial, Villahermosa, Centro, Tabasco, CP. 86040, Tel (993) 358 15 00, www.ujat.mx, era@ujat.mx., era@ujat.mx. Editor-in-chief: Efraín de la Cruz Lázaro. Copyright No. 04-2013-120514213600-203, ISSN: 2007-901X, both granted by the Instituto Nacional del Derecho de Autor (National Institute of Copyright), with certificate of title and content No. 16540 granted by the Secretaría de Gobernación(Ministry of the Interior). Individual responsible for the last update of this issue was journal Editorial Assistant Lic. Misael Hernández Martínez, Av. Universidad s/n, Zona de la Cultura, Col. Magisterial, Vhsa, Centro, Tabasco, Mex. C.P. 86040; date of last modification, september 1, 2019.
The opinions expressed by the authors do not necessarily reflect the position of the publisher.
The total reproduction of the articles is authorized, provided that the author and the journal Ecosistemas y Recursos Agropecuariosare mentioned or cited.
Este obra está bajo una
licencia de Creative Commons Reconocimiento-NoComercial-CompartirIgual 4.0 Internacional