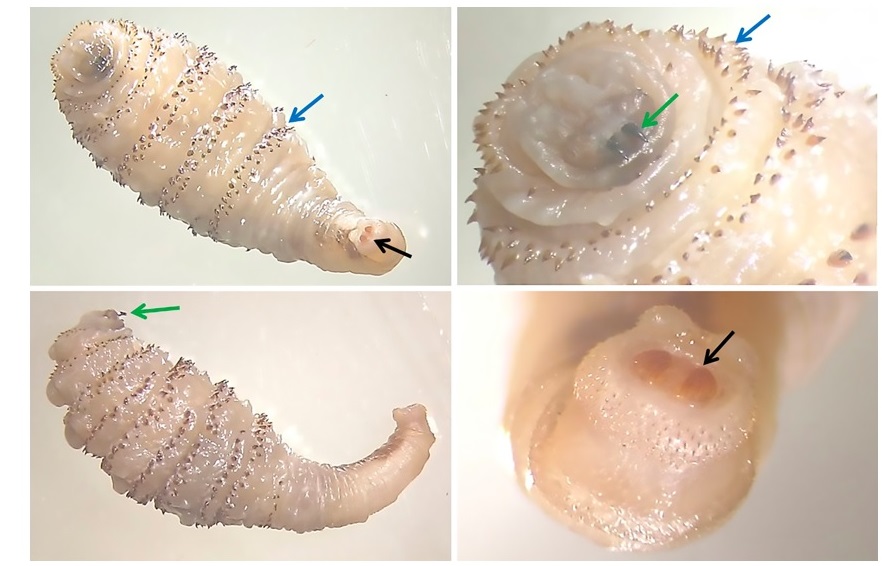 Dermatobiosis cutánea bovina en la región selvática lluviosa y montañosa de México
Abstract
Se reporta la presencia de Dermatobia hominis en bovinos criados en ranchos ubicados en una zona selvática y montañosa de México. Se realizó un estudio en cuatro ranchos, incluidos por conveniencia. Se incluyeron un total de 75 bovinos, se registró la presencia, el número y características de los nódulos cutáneos por animal, y se colectaron larvas. Las larvas fueron clasificadas taxonómicamente como D. hominis. En total 10.6% de los animales presentaron nódulos en la piel (8/75). Se encontraron entre uno y 22 nódulos por bovino, distribuidos en cuatro regiones corporales (cola, pierna, abdomen y escápula). Se detectó la presencia de larvas D. hominis, las miasis que producen se caracterizan por la presencia de nódulos en la escápula, cola y pierna. Se recomienda que en la zona de estudio se implementen medidas de control de la mosca a través del uso de antiparasitarios en los bovinos.
References
Alencar RB, Saraiva JF, Oliveira AFJ, Scarpassa VM (2017) First record of Anopheles konderi Galvão & Damasceno (Diptera: Culicidae) carrying eggs of Dermatobia hominis (Linnaeus Jr.) (Diptera: Oestridae), from Oriximiná municipality, Pará, Brazil. Revista da Sociedade Brasileira de Medicina Tropical. 50(3):388-390.
Barbosa C, Sanavria A, Barbosa M (2002) Fase parasitária e alterações clínicas em bovinos infestados experimentalmente com larvas de Dermatobia hominis (Diptera: Cuterebridae). Revista Ibero-Latinoamericana de Parasitología. 57(1-2):15-20.
Cardona ÁJA, Montes VJC, Castaño VFA, Blanco MRD, Gómez LVE (2013) Frecuencia de dermatobiosis cutánea bovina en vacas Holstein de un hato lechero en Viçosa (MG, Brasil). CES Medicina Veterinaria. 8(1):82-84.
Failoc R, Molina A, Salazar Z, Samamé A, Silva D (2018) Case Report: Myiasis due to Cochliomyia hominivorax and Dermatobia hominis: clinical and pathological differences between two species in Northern Peru. The American Journal of Tropical Medicine and Hygiene 98(1):150-153.
FAO 2006. Miasis obligatorias. Oficina regional para America Latina y el Caribe. http://www.fao.org/tempref/GI/Reserved/FTP_FaoRlc/old/prior/segalim/animal/miasis/cutaneas/cutaobli.htm . Fecha de consulta: 22 julio 2017.
Ferraz da Costa Mdo S, Guimarães MP, Lima Wdos S, Ferraz da Costa AJ, Facury Filho EJ, Araujo RN (2014) Seasonal variation and frequency distribution of ectoparasites in crossbreed cattle in Southeastern Brazil. Journal of Veterinary Medicine. Article ID 759854. 8 pp.
Forero BE, Cortés VJ, Villamil JL (2008) Problemática del gusano barrenador del ganado Cochliomya hominivorax (Coquerel, 1858) en Colombia. Revista MVZ Córdova. 13 (2): 1400-1414.
Francesconi F, Lupi O (2012) Myiasis. Clinical Microbiology Reviews. 25(1):79-105.
Grisi L, Cerqueira Leite R, de Souza Martins JR, Medeiros de Barros AT, Andreotti R, Duarte Cançado PH, et al (2014) Reassessment of the potential economic impact of cattle parasites in Brazil. Revista Brasileira de Parasitology Veterinary. 3(2):150-156.
Grondvold J, Henriksen SA, Larsen M, Nansen P, Wolstrup J. (1996) Biological control: Aspects of biological control with special reference to arthropods, protozoans and helminthes of domesticated animals. Veterinary Parasitology. 64: 47-64.
INEGI (2017) Instituto Nacional de Estadística y Geografía. Anuario estadístico y geográfico de Chiapas. http://www.inegi.org.mx/est/contenidos/espanol/sistemas/aee12/estatal/chis/default.htm Fecha de consulta 22 de Julio de 2017.
López VG, Romero MI (2017) Miasis gastrica e intestinal por Ornidia obesa (Diptera:Syrphidae) en humanos. Primer reporte en Colombia. Revista MVZ Córdova. 22 (1):5755-5760.
Mateus VG, Cadena SJA (1973) El nuche: vida y control. ICA informa BAC Modulo digital. 8 (5): 5-12.
Mozzaquatro F, Sanavria A (2003) Estudo epidemiológico da Dermatobia hominis (Diptera: Cuterebridae) em bovinos de produção leiteira no Município de Santa Maria, Rio Grande do Sul, Brasil. Parasitologia Latinoamericana. 58(12): 80–82.
Neves JED, Carvalho N, Amarante AFT (2015) Dermatobia hominis: Potencial risk of resistance to macrocyclic lactones. Veterinary Parasitology. 212: 483-486.
Oliveira MC, Alencar MM, Giglioti R, Beraldo MC, Aníbal FF, Correia RO, et al (2013) Resistance of beef cattle of two genetic groups to ectoparasites and gastrointestinal nematodes in the state of São Paulo, Brazil. Veterinary Parasitology.197(1-2):168-75.
Reina I, Villarreal B (2017) Dermatobia hominis: larvas destructoras escondidas bajo la piel de nuestros bovinos. Actualidad Ganadera 4:26-30.
Robbins K, Khachemoune A (2010) Cutaneous myiasis: a review of the common types of myiasis. International Journal of Dermatology. 49(10): 1092-1098.
Rodríguez AM, Aquino PG (2009) Miasis furunculoide múltiple. Revista del Centro Dermatológico Pascua 18(3):96-99.
Silva A, Alencar M, Regitano L, Oliveira M (2010) Infestação natural de fêmeas bovinas de corte por ectoparasitas na Região Sudeste do Brasil. Revista Brasileira de Zootecnia. 39(7):1477–1482.
Souza FS, Botelho MCSN, Lisbôa RS (2010) Caracterização de associação entre a sazonalidade de larvas de Dermatobia hominis em bovinos, dípteros potenciais vetores e dados meteorológicos de três diferentes locais no Rio de Janeiro. Revista Brasileira de Ciencia Veterinaria. 17(3-4):111-116.
Magalhães FEP, Lesskiu C (1982) Efeito do controle do berne sobre o ganho de peso e qualidade dos couros em novilhos de corte. Pesquisa Agropecuaria Brasileira. 17(2): 329-336.
Souza FS, Botelho MCSN, Lisbôa RS (2010) Caracterização de associação entre a sazonalidade de larvas de Dermatobia hominis em bovinos, dípteros potenciais vetores e dados meteorológicos de três diferentes locais no Rio de Janeiro. Revista Brasileira de Ciencia Veterinaria. 17(3-4):111-6.
Thanapatcharoen A, Preativatanyou K, Phumee A, Kraivichain K (2012) Cutaneous myiasis caused by Dermatobia hominis in Thai travelers: first report in Thailand. Asian Biomedicine 6(3): 487-494.
Thomas DB (1987) Incidence of screwworm (Diptera: Calliphoridae) and torsalo (Diptera: Cuterebridae) myiasis on the Yucatan Peninsula of Mexico. Journal of Medical Entomology. 24(4):498-502.
Villalobos G, Vega-Memije ME, Maravilla P, Martinez-Hernandez F (2016) Myiasis caused by Dermatobia hominis: countries with increased risk for travelers going to neotropic areas. International Journal of Dermatology. 55(10):1060-8.
West J (2013) Simple and effective field extraction of human botfly, Dermatobia hominis, using a venom extractor. Wilderness & Environmental Medicine. 24:17–22.
Zammarchi L, Viligiardi R, Strohmeyer M, Bartoloni A (2014) Dermatobia hominis: Small migrants hidden in your skin. Annals of Dermatology. 26(5):632-635.
Zuñiga CIR (2009) Miasis un problema de salud poco estudiado en México. Revista de Enfermedades Infecciosas en Pediatría. 22(88) 121-125.
DOI:
http://dx.doi.org/10.19136/era.a7n1.2303
ECOSISTEMAS Y RECURSOS AGROPECUARIOS(ECOSYSTEMS AND AGRICULTURAL RESOURCES), Year 6, Issue 18, september-december 2019, is a triannual journal edited, published and distributed by the Universidad Juárez Autónoma de Tabasco, Av. Universidad s/n, Zona de la Cultura, Col. Magisterial, Villahermosa, Centro, Tabasco, CP. 86040, Tel (993) 358 15 00, www.ujat.mx, era@ujat.mx., era@ujat.mx. Editor-in-chief: Efraín de la Cruz Lázaro. Copyright No. 04-2013-120514213600-203, ISSN: 2007-901X, both granted by the Instituto Nacional del Derecho de Autor (National Institute of Copyright), with certificate of title and content No. 16540 granted by the Secretaría de Gobernación(Ministry of the Interior). Individual responsible for the last update of this issue was journal Editorial Assistant Lic. Misael Hernández Martínez, Av. Universidad s/n, Zona de la Cultura, Col. Magisterial, Vhsa, Centro, Tabasco, Mex. C.P. 86040; date of last modification, september 1, 2019.
The opinions expressed by the authors do not necessarily reflect the position of the publisher.
The total reproduction of the articles is authorized, provided that the author and the journal Ecosistemas y Recursos Agropecuariosare mentioned or cited.
Este obra está bajo una
licencia de Creative Commons Reconocimiento-NoComercial-CompartirIgual 4.0 Internacional