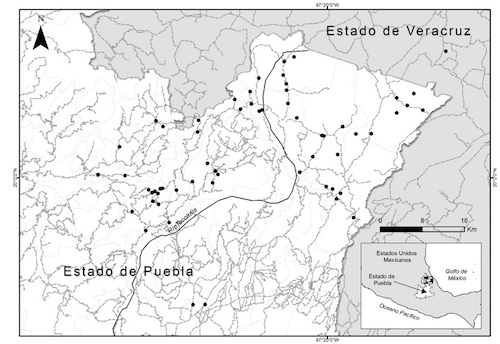 Landscape and cattle management attributes associated with the incidence of Desmodus rotundus attacks on cattle
Abstract
Bovine paralytic rabies, transmitted by Desmodus rotundus, causes economic losses for Latin American livestock producers. Although the total number of reported cases has decreased markedly due to vaccination campaigns, economic losses can be significant for smallholders. Identifying risk factors for vampire bat attacks on cattle could help guide preventive control efforts in specific areas. The objective of this study was to analyze the relationship between the incidence of D. rotundus attacks on cattle and various landscape features and cattle management practices in northeastern Puebla, Mexico. We visited 61 properties with cattle between May and October 2011, in which we quantified the incidence of attacks on cattle and described landscape and cattle management attributes. The following features were described within a 200-m radius around the nightly resting site of cattle: topography, percent forest cover, and number of forest fragments, rivers and streams, tree lines, buildings, roads and highways. With these variables, we built models that were assumed to describe the levels of human interference, prey availability, and movement facilitation for bats. The human interference model (number of buildings plus number of roads) best explained the incidence of attacks on cattle. According to our results, the cattle with the highest vulnerability to attacks by vampire bats are those resting at night in less confined sites, far away from human activity. Results of this study suggest that rabies vaccination campaigns on cattle should focus on fragmented areas with few livestock management practices.
Keywords
Fragmentation; cattle ranching; vampire bat; Puebla; rabies;
DOI:
http://dx.doi.org/10.19136/era.a7n1.2164
ECOSISTEMAS Y RECURSOS AGROPECUARIOS(ECOSYSTEMS AND AGRICULTURAL RESOURCES), Year 6, Issue 18, september-december 2019, is a triannual journal edited, published and distributed by the Universidad Juárez Autónoma de Tabasco, Av. Universidad s/n, Zona de la Cultura, Col. Magisterial, Villahermosa, Centro, Tabasco, CP. 86040, Tel (993) 358 15 00, www.ujat.mx, era@ujat.mx., era@ujat.mx. Editor-in-chief: Efraín de la Cruz Lázaro. Copyright No. 04-2013-120514213600-203, ISSN: 2007-901X, both granted by the Instituto Nacional del Derecho de Autor (National Institute of Copyright), with certificate of title and content No. 16540 granted by the Secretaría de Gobernación(Ministry of the Interior). Individual responsible for the last update of this issue was journal Editorial Assistant Lic. Misael Hernández Martínez, Av. Universidad s/n, Zona de la Cultura, Col. Magisterial, Vhsa, Centro, Tabasco, Mex. C.P. 86040; date of last modification, september 1, 2019.
The opinions expressed by the authors do not necessarily reflect the position of the publisher.
The total reproduction of the articles is authorized, provided that the author and the journal Ecosistemas y Recursos Agropecuariosare mentioned or cited.
Este obra está bajo una
licencia de Creative Commons Reconocimiento-NoComercial-CompartirIgual 4.0 Internacional