Actividad ovicida y larvicida de extractos acuosos de Pluchea sericea y Artemisia tridentata en Haemonchus contortus
Palabras clave:
antihelmíntico, nematodo gastrointestinal, fitoquímico, Pluchea sericea, Artemisia tridentata
Resumen
El objetivo fue evaluar la actividad ovicida y larvicida de extractos acuosos de hojas de Pluchea sericea y Artemisia tridentata sobre Haemonchus contortus. Se evaluaron concentraciones de 100, 75, 50, 25 y 12.5 mg mL-1 de cada extracto. Se tuvo diferencias signicativas (p 0.05) para todas las concentraciones en la inhibición de la eclosión de huevos y mortalidad larval de H. contortus. La dosis de 100 mg mL-1 redujo la eclosión larvaria en 100 y 96.30%, con mortalidad larvaria del 92.67 y 89.33% para P. sericea y A. tridentata, respectivamente. La CL50 fue de 23.21 y 23.26 mg mL-1 para la inhibición de eclosión de huevos, para la mortalidad larvaria se tuvo una CL50 de 20.36 y 27.18 mg mL-1 para los extractos de P. sericea y A.tridentata, respectivamente. Los extractos acuosos de hojas de P. sericea y A. tridentata controlan los estadios de huevo y larva de H. contortus.
Citas
Abdelmolmoteleb A, Valdez-Salas B, Carrillo-Beltrán M, Durán-Hernández D, González-Mendoza D (2016) Green synthesis of silver nanoparticles using Pluchea sericea a native plant from Baja California, México and their potential application as antimicrobials. Iranian Journal of Science and Technology, Transactions A: Science. DOI 10.1007/ s4095-016-0019-6.
Acharya J, Hildreth MB, Reese NR (2014) In vitro screening of forty medicinal plant extracts from United States Northen Great Plains for anthelmintic activity against Haemonchus contortus. Veterinary Parasitology 201: 75-81.
Adamu M, Naidoo V, Eloff J (2013) Efficacy and toxicity of thirteen plant leaf acetone extracts used in ethnoveterinary medicine in South Africa on egg hatching and larval development of Haemonchus contortus. BMC Veterinary Research 9: 1-8.
Ail-Catzim CE, García-López AM, Troncoso-Rojas R, González-Rodríguez RE, Sánchez-Segura Y (2015) Efecto insecticida y repelente de extractos de Pluchea sericea (Nutt.) sobre adultos de Bemisia tabaci (Genn.). Revista Chapingo. Serie Horticultura 21: 33-41.
Akkari H, Rtibi K, B'chir F, Rekik M, Darghouth MA, Gharbi M (2014) In vitro evidence that the pastoral Artemisia campestris species exerts an anthelmintic effect on Haemonchus contortus from sheep. Veterinary Research Communications 38: 249-255.
Alawa CBI, Adamu AM, Gefu JO, Ajanusi OJ, Abdu PA, Chiezey NP, Alawa JN, Bowman DD (2003) In vitro screening of two Nigerian medicinal plant (Vernonia amigdalina and Annona senegalensis) for anthelmintic activity. Veterinary Parasitology 113: 73-81.
Alemán Y, Sánchez LM, Pérez T, Rodríguez Y, Olivares JL, Rodríguez JG (2011) Actividad larvicida de extractos de Rhizophora mangle L. contra estrongílidos gastrointestinales de ovinos. Revista Salud Animal 33: 111-115.
Assis LM, Leal CM, Morais SM, Souza JAL (2003) Ovicidal and larvicidal activity in vitro of Spieled anthelia Linn. extract on Haemonchus contortus. Veterinary Parasitology 117: 43-49.
Barrabi-Puerta M, Arece-García J (2013) Actividad antihelmíntica in vitro de extracto acuoso de hojas y semillas de Neem (Azadirachta indica A. Juss). Inhibición de la eclosión de huevos y del desarrollo larvario. Revista Salud Animal 35: 103-108.
Belemlilga MB, Traoré A, Quédraogo S, Kaboré A, Tamboura HH, Gissou IP (2016) Anthelmintic activity of Saba senegalensis (A.DC.) pichon (Apocynaceae) extract against adult worm and eggs of Haemonchus contortus. Asian Pacific Journal of Tropical Biomedicine 6: 945-949.
Bizimenyera ES, Githiori JB, Eloff JN, Swan GE (2006) In vitro activity of Peltophorum africanum Sond. (Fabaceae) extracts on the egg hatching and larval development of the parasitic nematode Trichostrongylus colubriformis. Veterinary Parasitology 142: 336-343.
Corticelli B, Lai M (1963) Ricerche sulla tecnica di coltura delle larve infestive degli strongili gastro-intestinali del bovino. Acta Medica Veterinaria 9: 347-357.
Eloff JN (1998) Which extractant should be used for the screening and isolation of antimicrobial components from plants?. Journal of Ethnopharmacology 60: 1-8.
Fouche G, Sakong BM, Adenubi OT, Pauw E, Leboho T, Wellington KW (2016) Anthelmintic activity of acetone extracts from South African plants use don egg hatching of Haemonchus contortus. Onderstepoort Journal of Veterinary Research. v. 83, a1164, http://dx. doi. org/10.4102/ojvr.v83i1.1164.
Islam MK, Siraj MA, Sarker AB, Saha S, Mahmud I, Rahman MM (2015) In-vitro anthelmintic activity of three Bangladesh plants against Paramphistomum cervi and Haemonchus contortus. Journal of Complementary and Integrative Medicine 12: 171-174.
Irum S, Ahmed H, Mukhtar M, Mushtaq M, Mirza B, Donskow-Lysoniewska K, Qayyum M, Simsek S (2015) Anthelmintic activity of Artemisia vestita Wall ex DC. and Artemisia marítima L. against Haemonchus contortus from sheep. Veterinary Parasitology 212: 451-455.
Jassbi AR, Zamanizadehnajari S, Baldwin IT (2010) Phytotoxic volatiles in the roots and shoots of Artemisia tridentata as detected by headspace solid-phase microextraction and gas chromatographic-mass spectrometry analysis. Journal of Chemical Ecology 36: 1398-1407.
Kamaraj C, Rahuman AA (2011) Efficacy of anthelmintic properties of medicinal plant extracts against Haemonchus contortus. Research in Veterinary Science 91: 400-404.
Mini KP, Venkateswaran KV, Gomathinayagam S, Selvasubramanian S, Bijargi SR (2013) In vitro Anthelmintic effect of aqueous and etanol extract of Aristolochia indica against Haemonchus contortus. Journal of Physiology and Pharmacology Advances 3: 148-158.
Molefe NI, Tsotetsi AM, Ashafa AOT, Thekisoe OMM (2012) In vitro anthlemintic effects of Artemisia afra and Mentha longifolia against parasitic gastro-intestinal nematodes of livestock. Bangladesh Journal Pharmacology 7: 157-163.
Morais-Costa F, Bastos GA, Soares AC, Costa EG, Vasconcelos VO, Oliveira NG, Braga FC, Duarte ER, Lima WS (2016) In vitro and in vivo action of Piptadenia viridiflora (Kunth) Benth against Haemonchus contortus in sheep. Veterinary Parasitology 223: 43-49.
Moreno FC, Gordon IJ, Wright AD, Benvenutti MA, Saumell CA (2010) Efecto antihelmíntico in vitro de extractos de plantas sobre larvas infectantes de nematodos gastrointestinales de rumiantes. Archivos de Medicina Veterinaria 42: 155-163.
National Research Council (2007) Nutrient requirements of small ruminants. Annual Nutrition Series. p. 246-250.
Nchu F, Githiori JB, Mcgaw LJ, Eloff JN (2011) Anthelmintic and cytotoxic activities of extracts of Markhamia obtusifolia Sprague (Bignoniaceae). Veterinary Parasitology 183: 184-188.
Organización Mundial de Sanidad Animal (2015) Estatus sanitario oficial de los países miembros. http://www.oie.int/es/bienestar-animal/el-bienestar-animal-de-un-vistazo/. Fecha de consulta 16 abril de 2016.
Pérez-Pérez C, Hernández-Villegas MH, De la Cruz-Burelo P, Hernández-Bolio GI, Bolio-López GI (2014) Efecto antihelmíntico in vitro del extracto metanólico de hojas de Gliciridia sepium contra nematodos gastrointestinales en ovinos. Tropical and Subtropical Agroecosystems 17: 105-111.
Robertson J, Russell R, Preisler H, Savin NE (2007) Bioassays with Arthropods. 2nd Edition. CRC Press. Florida, USA. 224P.
Squires JM, Ferreira JFS, Lindsay DS, Zajac AM (2011) Effect of artemisinin and Artemisia extract on Haemonchus contortus in gerbils (Meriones unguiculatus). Veterinary Parasitology 175: 103-108.
Turi CE, Shipley PR, Murch SJ (2014) North American Artemisia species from the subgenus Tridentatae (Sagebrush): A phytochemical, botanical and pharmacological review. Phytochemistry 98: 9-26.
Van Wyk JA (2001) Refugia-overlooked as perhaps the most potent factor concerning the development of anthelmintic resistance. Onderstepoort Journal of Veterinary Research 68: 55-67.
Vargas-Magaña JJ, Torres-Acosta JFJ, Aguilar-Caballero AJ, Sandoval-Castro CA, Hoste H, Chan-Pérez JI (2014) Anthelmintic activity of acetone-water extract against Haemonchus contortus eggs: Interactions between tannins and other plant secondary compounds. Veterinary Parasitology 206: 322-327.
Villaseñor JL, Villarreal JA (2006) El género Pluchea (Familia: Asteraceae. Tribu: Plucheeae) en México. Revista Mexicana de Biodiversidad 77: 59-65.
Zapata-Salas R, González-Agudelo C, Natalia-Mosquera L, Cardona L, Yurani I, Tamayo U, Polanco-Echeverry D, Araque-Marín P (2013) Actividad antihelmíntica in vitro de extractos oleosos de Azadirachta indica y extractos acuosos de Nicotiana tabacum sobre nematodos gastrointestinales de cabras. Revista Medicina Veterinaria 26: 25-36.
Zhu L, Dai JL, Yang L, Qiu J (2013) In vitro ovicidal and larvicidal activity of the essential oil of Artemisia lancea against Haemonchus contortus. Veterinary Parasitology 195: 112-117.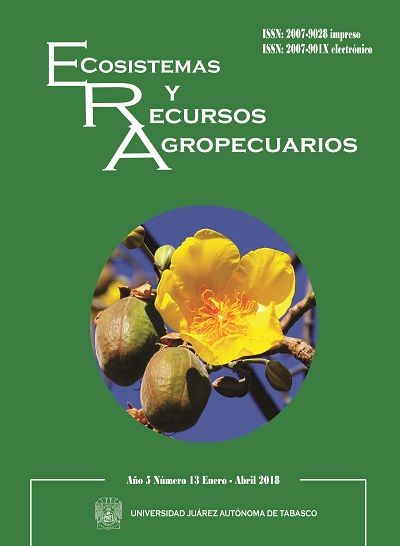 Cómo citar
Luck Montero, R., Avendaño Reyes, L., Ail Catzim, C. E., Cuéllar Ordaz, J., Muñoz Tenería, F., & Macías Cruz, U. (2018). Actividad ovicida y larvicida de extractos acuosos de Pluchea sericea y Artemisia tridentata en Haemonchus contortus. Ecosistemas Y Recursos Agropecuarios, 5(13), 149-156. https://doi.org/10.19136/era.a5n13.1370
Sección
NOTAS CIENTÍFICAS
Licencia
1. Política propuesta para revistas de acceso abierto
Los autores/as que publiquen en esta revista aceptan las siguientes condiciones: 
1. Los autores/as conservan los derechos de autor y ceden a la revista el derecho de la primera publicación, con el trabajo registrado con la licencia de atribución de Creative Commons, que permite a terceros utilizar lo publicado siempre que mencionen la autoría del trabajo y a la primera publicación en esta revista.
2. Los autores/as pueden realizar otros acuerdos contractuales independientes y adicionales para la distribución no exclusiva de la versión del artículo publicado en esta revista (p. ej., incluirlo en un repositorio institucional o publicarlo en un libro) siempre que indiquen claramente que el trabajo se publicó por primera vez en esta revista.
3. Se permite y recomienda a los autores/as a publicar su trabajo en Internet (por ejemplo en páginas institucionales o personales) antes y durante el proceso de revisión y publicación, ya que puede conducir a intercambios productivos y a una mayor y más rápida difusión del trabajo publicado (vea The Effect of Open Access).
This work is licensed under a
Creative Commons Attribution-NonCommercial-NoDerivatives 4.0 International License
.