Tipología de estrategias campesinas en la ca cultura orgánica de la Sierra Madre de Chiapas
Resumen
En la caficultura campesina existe un gradiente de estrategias productivas determinadas por factores funcionales. El objetivo del estudio fue construir una tipología de estrategias de manejo del cafetal de 87 caficultores de la Sierra Madre de Chiapas. Se utilizó una base de datos generada por una organización de caficultores orgánicos. Por medio de una clasificación jerárquica ascendente se identificaron tres tipos de estrategias, definidas por el sexo, edad y nivel de intensidad en el uso de factores productivos. El grupo más intensivo lo constituyeron mujeres que hacen uso de mano de obra permanente de origen externo. Ver el papel de la mujer y de los jóvenes en las estrategias productivas y de supervivencia en la caficultura campesina puede hacer efectiva la orientación y uso de recursos por las organizaciones de caficultores y mejorar el diseño de políticas públicas. 
Citas
Addinsoft (2016) XLSTAT, Data analysis and statistics software for Microsoft Excel. Ver. 2016.02. Addinsoft. New York, USA. 1446p
Aguilar-Støen M, Angelsen A, Støle K-A, Moe SR (2011) The Emergence, Persistence, and Current Challenges of Coffee Forest Gardens: A Case Study From Candelaria Loxicha, Oaxaca, Mexico. Society and Natural Resources 24: 1235-1251.
Ayala-Carrillo M, Zapata-Martelo E, Suárez-San Román B, Nazar-Beautelspacher A (2014) Estrategias de reproducción familiar en las fincas cafetaleras del soconusco, Chiapas. Agricultura, Sociedad y Desarrollo 11: 401-423.
Barham B, Weber J (2012) The Economic Sustainability of Certified Coffee: Recent Evidence from Mexico and Peru. World Development 40: 1269-1279.
Bebbington A (1997) Social capital and rural intensification: local organizations and islands of sustainability in the rural Andes. Geographical Journal 163: 189-197.
Bourdieu P (1994) Stratégies de reproduction et modes de domination. Actes de la Recherche en Sciences Sociales 105: 3-12.
Cáceres D (1995) Estrategias campesinas en sociedades rurales contemporáneas. Revista de la Facultad de Agronomía 15: 67-72.
Cartay R (1999) Estrategias de sobrevivencia de los pequeños caficultores en tiempos de crisis. Agroalimentaria 5: 79-82.
Cerda R, Allinne C, Gary C, Tixier P, Harvey CA, Krolczyk L (2017a) Effects of shade, altitude and management on multiple ecosystem services in coffee agroecosystems. European Journal of Agronomy 82: 308-319.
Cerda R, Avelino J, Gary C, Tixier P, Lechevallier E, Allinne C (2017b) Primary and Secondary Yield Losses Caused by Pests and Diseases: Assessment and Modeling in Coffee. PLoS One 12: e0169133.
COMCAFE (2013) Programa institucional 2013-2018. Comisión para el Desarrollo y Fomento del Café de Chiapas. Tuxtla Gutiérrez, México. 34p
CONAFOR (2007) Estudio regional forestal de la UMAFOR 0707 Sierra, Chiapas. Comision Nacional Forestal. México. 378p
Cueva-Alegría D (2016) The case of Café Femenino: The limitations of gender-conscious Fair Trade. World Development Perspectives 1: 1-3.
Davis J, Lopez-Carr D (2014) Migration, remittances and smallholder decision-making: Implications for land use and livelihood change in Central America. Land Use Policy 36: 319-329.
De Vaus D (2014) Surveys in social research. Routledge. New York, USA. 379p
Eakin H, Tucker C, Castellanos E (2006) Responding to the Coffee Crisis: A Pilot Study of Farmers' Adaptations in Mexico, Guatemala and Honduras. The Geographical Journal 172: 156-171.
Edelman M (2013) What is a peasant? What are peasantries? A briefing paper on issues of definition. The Graduate Center. The City University of New York. Ginebra. Suiza. 18p
Edwards-Jones G (2007) Modelling farmer decision-making: concepts, progress and challenges. Animal Science 82: 783-790.
Ellis F (1998) Household strategies and rural livelihood diversification. The Journal of Development Studies 35: 1-38.
Erb KH, Haberl H, Jepsen MR, Kuemmerle T, Lindner M, Muller D, Verburg PH, Reenberg A (2013) A conceptual framework for analysing and measuring land-use intensity. Current Opinion in Environmental Sustainability 5: 464-470.
Escamilla P, Ruiz R, Díaz P, Landeros S, Platas R, Zamarripa C, González H (2005) El agroecosistema café orgánico en México. Manejo Integrado de Plagas y Agroecología 76: 5-16.
Everitt B, Landau S, Leese M, Stahl D (2011) Cluster analysis. John Wiley & Sons. London UK. 330p
Guadarrama-Zugasti C (2008) A Grower Typology Approach to Assessing the Environmental Impact of Coffee Farming in Veracruz, México. En: Christopher B, Méndez E, Gliessman S, Goodman D, Fox J (ed). Confronting the Coffee Crisis: Fair Trade, Sustainable Livelihoods and Ecosystems in Mexico and Central America. Massachusetts, USA. pp: 127-154.
Hernández-Martínez G, Manson, RH, Hernández AC (2009) Quantitative classification of coffee agroecosystems spanning a range of production intensities in central Veracruz, Mexico. Agriculture, Ecosystems and Environment 134: 89-98.
Hutchens A (2010) Empowering women through fair trade? Lessons from Asia. Third World Quarterly 31: 449-467.
ICO (2017) International Coffee Agreement 2007 - Benefits of membership. International Coffee Organization. London. http://www.ico.org/Benefits_ICA2007.asp?section=About_Us. Fecha de consulta 5 de junio de 2017.
INEGI (1984) Cartas de Efectos Climáticos Regionales (Primer y segundo periodo). Huixtla, Chiapas. Instituto Nacional de Estadística, Geografía e Informática. Aguascalientes, México. 1p
INEGI (2008) Conjunto de datos vectoriales. Unidades climáticas. Instituto Nacional de Estadística, Geografía e Informática. Aguascalientes, México. 1p
INEGI (2015) Cartas de Uso del Suelo y Vegetación. Huixtla, Chiapas. Instituto Nacional de Estadística, Geografía e Informática. Aguascalientes, México. 1p
Jaffee D (2014) Brewing justice: Fair trade coffee, sustainability, and survival. University of California Press. California, USA. 331p
Jolliffe I (2002) Principal component analysis. Springer. New York, USA. 487p
Kass GV (1980) An Exploratory Technique for Investigating Large Quantities of Categorical Data. Applied statistics 29: 119-127.
Lewin B, Giovannucci D, Varangis P (2004) Coffee Markets: New Paradigms in Global Supply and Demand. The World Bank. Washington D.C., USA. 150p
Lewis JM (2005) Strategies for Survival: migration and fair trade-organic coffee production in Oaxaca, México. Center for Comparative Immigration Studies, University of California, San Diego. California, USA. 82p
López-López E, Caamal-Cauich I (2009) Los costos de producción del café orgánico del estado de Chiapas y el precio justo en el mercado internacional. Revista mexicana de economía agrícola y de los recursos naturales 2: 175-198.
Lyon S (2010) Coffee and community: Maya farmers and fair-trade markets. University Press of Colorado. Colorado, USA. 266p
Lyon S, Bezaury J, Mutersbaugh T (2010) Gender equity in fairtrade–organic coffee producer organizations: Cases from Mesoamerica. Geoforum 41: 93-103.
Martínez-Torres, ME (20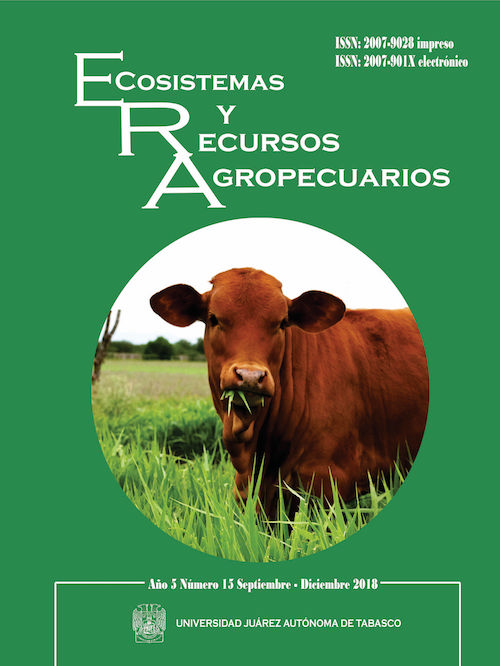 Cómo citar
Merlin-Uribe, Y., & Charbonnier, F. (2018). Tipología de estrategias campesinas en la ca cultura orgánica de la Sierra Madre de Chiapas. Ecosistemas Y Recursos Agropecuarios, 5(15), 411-423. https://doi.org/10.19136/era.a5n15.1714
Sección
ARTÍCULOS CIENTIFICOS
Licencia
1. Política propuesta para revistas de acceso abierto
Los autores/as que publiquen en esta revista aceptan las siguientes condiciones: 
1. Los autores/as conservan los derechos de autor y ceden a la revista el derecho de la primera publicación, con el trabajo registrado con la licencia de atribución de Creative Commons, que permite a terceros utilizar lo publicado siempre que mencionen la autoría del trabajo y a la primera publicación en esta revista.
2. Los autores/as pueden realizar otros acuerdos contractuales independientes y adicionales para la distribución no exclusiva de la versión del artículo publicado en esta revista (p. ej., incluirlo en un repositorio institucional o publicarlo en un libro) siempre que indiquen claramente que el trabajo se publicó por primera vez en esta revista.
3. Se permite y recomienda a los autores/as a publicar su trabajo en Internet (por ejemplo en páginas institucionales o personales) antes y durante el proceso de revisión y publicación, ya que puede conducir a intercambios productivos y a una mayor y más rápida difusión del trabajo publicado (vea The Effect of Open Access).
This work is licensed under a
Creative Commons Attribution-NonCommercial-NoDerivatives 4.0 International License
.