Arginina como aminoácido funcional en dietas para cerdos en iniciación
Resumen
El objetivo de esta investigación fue determinar la concentración óptima de arginina (Arg) sintética que se debe adicionar a dietas para cerdos en iniciación para mejorar el comportamiento productivo. En el experimento se evaluó la adición de cinco concentraciones de Arg sintética (0.0, 0.5, 1.0, 1.5 y 2.0%), con 40 cerdos híbridos castrados, con peso inicial promedio de 8.72 ± 1.36 kg y 30 días de edad. El diseño utilizado fue completamente al azar con cinco tratamientos. Los datos se analizaron con ANOVA y las medias de tratamientos se compararon con la prueba de Tukey (p ≤ 0.05). La adición a partir de 0.5% de Arg en la dieta mejoró el consumo de alimento, la ganancia de peso y la conversión alimenticia (p < 0.05). La concentración de urea en plasma se incrementó con la adición de 2% de Arg en la dieta (p < 0.05).
Citas
Association of Analytical Chemists (AOAC) (2005) Official Methods of Analysis. 18th Ed. Washington, DC, USA. 128 p.
Burson D, Berg E (2001) Procedures for estimating pork carcass composition. Pork quality facts. National Pork Producers Council, Des Moines IA, USA.
Chaney AL, Marbach EP (1962) Modified reagents for determination of urea and ammonia. Clinical Chemistry 8: 130-132.
Dai ZL, Li XL, Xi PB, Zhang J, Wu G, Zhu WY (2012) Regulatory role for L-arginine in the utilization of amino acids by pig small-intestinal bacteria. Amino Acids 43: 233-244.
Diario Oficial de la Federación (DOF) (2001) Norma Oficial Mexicana-NOM-062-ZOO-1999: Especificaciones técnicas para la producción, cuidado y uso de los animales de laboratorio. México, D.F.
Gao K, Jiang Z, Lin Y, Zheng C, Zhou G, Chen F, Yang L, Wu G (2012) Dietary L-arginine supplementation enhances placental growth and reproductive performance in sows. Amino Acids 42:2207-2214.
García E (1988) Modificaciones al sistema de clasificación de Köppen (para adaptarlas a las condiciones de la República Mexicana). 4a edición. México DF. 217 p.
González M, Figueroa JL, Vaquera H, Sánchez-Torres MT, Ortega M, Cordero JL, Copado JMF, Narciso C (2014) Niveles de proteína para cerdos en fase starter: un meta-análisis. Archivos de Zootecnia 63:315-325.
González M, Figueroa JL, Vaquera H, Sánchez-Torres MT, Ortega ME, Copado JMF, Martínez JA (2016) Metaanálisis del efecto de dietas bajas en proteína y adicionada con aminoácidos sintéticos para cerdos machos castrados en finalización. Archivos de Medicina Veterinaria 48:51-59.
He Q, Kong X, Wu G, Ren P, Tang H, Hao F, Huang R, Li T, Tan B, Li P, Tang Z, Yin Y, Wu Y (2009) Metabolomic analysis of the response of growing pigs to dietary L-arginine supplementation. Amino Acids 37:199-208.
Hu S, Li X, Rezaei R, Meininger CJ, McNeal CJ, Wu G (2015) Safety of long-term dietary supplementation with l-arginine in pigs. Amino Acids 47:925-936.
Kalbe C, Bérard J, Porm M, Rehfeldt C, Bee G (2013) Maternal L-arginine supplementation during early gestation affects foetal skeletal myogenesis in pigs. Livestock Science 157:322-329.
Karl RF, McDowell LR, Miles PH, Wilkinson NS, Funk JD, Corad JH (1979) Métodos de análisis de minerals para tejidos de plantas y animales. 2a Ed. Departamento de Ciencia Animal, Universidad de Florida. Gainesville. Florida, USA. 39 p.
Kim SW, McPherson RL, Wu G (2004) Dietary arginine supplementation enhances the growth of milk-fed young pigs. Journal of Nutrition 134:625-630.
Ma X, Zheng C, Hu Y, Wang L, Yang X, Jiang Z (2015) Dietary L-arginine supplementation affects the skeletal longissimus muscle proteome in finishing pigs. Plos One 10.
Mateo RD, Wu G, Moon HK, Carroll JA, Kim SW (2008) Effects of dietary arginine supplementation during gestation and lactation on the performance of lactating primiparous sows and nursing piglets. Journal of Animal Science 86:827-835.
McKnight JR, Satterfield MC, Jobgen WS, Smith SB, Spencer TE, Meininger CJ, McNeal CJ, Wu G (2010) Beneficial effects of L-arginine on reducing obesity: potential mechanisms and important implications for human health. Amino Acids 39:349-57.
Microsoft Excel (2016) Microsoft Corporation. Microsoft office 365. USA. Redmond, WA, USA.
National Research Council (NRC) (2012) Nutrient requirements tables and feed ingredient composition. Nutrient requirements of swine. 11th Ed. National Academy Press, Washington, DC. 400 p.
Rezaei R, Wang WW, Wu ZL, Dai Z, Wang J Wu, G (2013) Biochemical and physiological bases for utilization of dietary amino acids by young pigs. Journal of Animal Science and Biotechnology 4-7.
Statistical Analysis System (SAS) (2012) The SAS system for Windows. SAS 9.4 Institute, Cary, NC, USA.
Tan B, Yin Y, Liu Z, Li X, Xu H, Kong X, Huang R, Tang W, Shinzato I, Smith SB, Wu G (2009) Dietary L-arginine supplementation increases muscle gain and reduces body fat mass in growing-finishing pigs. Amino Acids 37:169-175.
Wijnands KAP, Castermans TMR, Hommen MPJ, Meesters DM, Poeze M (2015) Arginine and citrulline and the immune response in sepsis. Nutrients 7:1426-1463.
Wu G, Knabe DA, Kim SW (2004) Arginine nutrition in neonatal pigs. In: Arginine Metabolism: enzymology, nutrition, and clinical significance. Journal of Nutrition 134:2783-2790.
Wu Z, Satterfield MC, Bazer FW, Wu G (2012) Regulation of brown adipose tissue development and white fat reduction by L-arginine. Current Opinion in Clinical Nutrition and Metabolic Care 6:529-538.
Wu G (2013) Functional amino acids in nutrition and health. Amino Acids 45:407-411.
Wu G, Wu Z, Dai Z, Yang Y, Wang W, Liu C, Wang B, Wang J, Yin Y (2013) Dietary requirements of "nutritionally non-essential amino acids" by animals and humans. Amino Acids 44:1107-1113.
Wu G (2014) Dietary requirements of synthesizable amino acids by animals: a paradigm shift in protein nutrition. Journal of Animal Science and Biotechnology 5:34.
Wu G, Bazer FW, Dai Z, Li D,Wang J,Wu Z (2014) Amino Acid Nutrition in Animals: Protein Synthesis and Beyond. Annual Review of Animal Biosciences 2:387-417.
Yao K, Yin YL, Chu W, Liu Z, Deng D, Li T, Huang R, Zhang J, Tan B, Wang W, Wu G (2008) Dietary arginine supplementation increases mTOR signaling activity in skeletal muscle of neonatal pigs. Journal of Nutrition 138:867-872.
Zheng P, Yu B, He J, Tian G, Luo Y, Mao X, Zhang K, Che K, Chen D (2013) Protective effects of dietary arginine supplementation against oxidative stress in weaned piglets. British Journal of Nutrition 109: 2253-2260.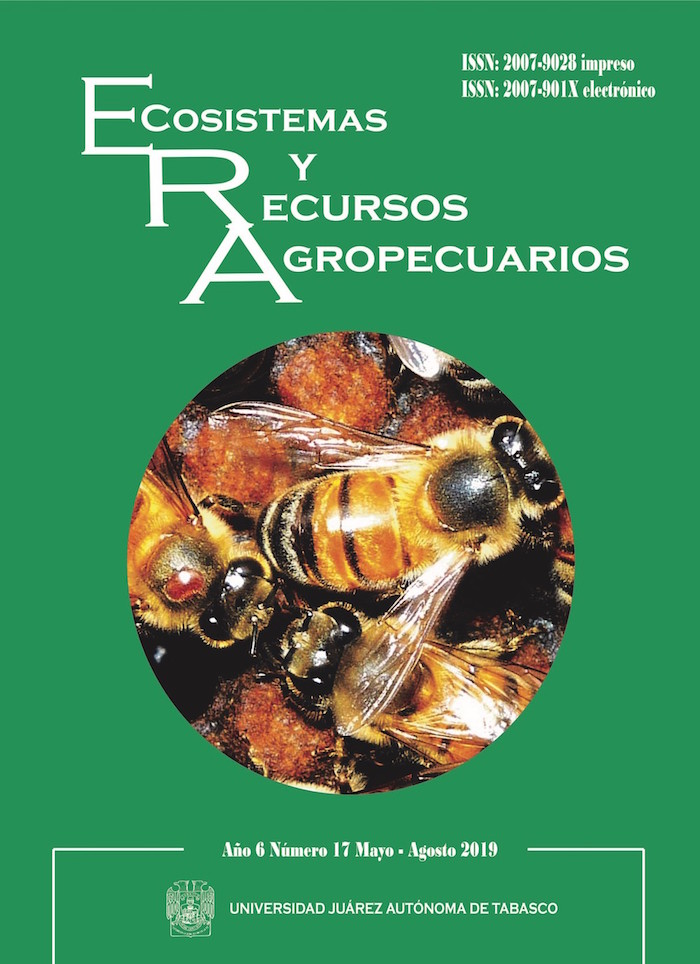 Cómo citar
Figueroa-Velasco, J. L., Martínez-Aispuro, J. A., Cordero-Mora, J. L., Sánchez-Torres-Esqueda, M. T., Crosby-Galván, M. M., & Cruz-Martínez, I. (2019). Arginina como aminoácido funcional en dietas para cerdos en iniciación. Ecosistemas Y Recursos Agropecuarios, 6(17), 377-382. https://doi.org/10.19136/era.a6n17.1748
Sección
NOTAS CIENTÍFICAS
Licencia
1. Política propuesta para revistas de acceso abierto
Los autores/as que publiquen en esta revista aceptan las siguientes condiciones: 
1. Los autores/as conservan los derechos de autor y ceden a la revista el derecho de la primera publicación, con el trabajo registrado con la licencia de atribución de Creative Commons, que permite a terceros utilizar lo publicado siempre que mencionen la autoría del trabajo y a la primera publicación en esta revista.
2. Los autores/as pueden realizar otros acuerdos contractuales independientes y adicionales para la distribución no exclusiva de la versión del artículo publicado en esta revista (p. ej., incluirlo en un repositorio institucional o publicarlo en un libro) siempre que indiquen claramente que el trabajo se publicó por primera vez en esta revista.
3. Se permite y recomienda a los autores/as a publicar su trabajo en Internet (por ejemplo en páginas institucionales o personales) antes y durante el proceso de revisión y publicación, ya que puede conducir a intercambios productivos y a una mayor y más rápida difusión del trabajo publicado (vea The Effect of Open Access).
This work is licensed under a
Creative Commons Attribution-NonCommercial-NoDerivatives 4.0 International License
.