Composición de comunidades y filoespecificidad de ectoparásitos de murciélagos en paisajes agropecuarios de Veracruz, México.
Palabras clave:
Abundancia, biomonitoreo, diversidad, fragmentación, riqueza
Resumen
Se evaluó la influencia de la transformación antropogénica del paisaje por actividades pecuarias sobre la composición y especificidad de las comunidades de ectoparásitos asociadas a murciélagos, en ranchos ganaderos del estado de Veracruz. Se compararon sitios con diferente nivel de transformación del paisaje que incluyeron producciones bajo sistemas de pastoreo en acahual, silvopastoril y pastizal. Se capturaron 944 murciélagos de 23 especies en ocho unidades de producción pecuaria. Se realizó la identificación taxonómica de 1 433 ectoparásitos de 35 especies obtenidos a partir de 428 hospederos. Se realizaron análisis de diversidad taxonómica y especificidad filogenética entre las asociaciones murciélago-ectoparásito. La composición de las comunidades de ectoparásitos asociadas con Artibeus jamaicensis mostró diferencias significativas entre los tres niveles de transformación del paisaje. El acahual, que es el paisaje con menor transformación antropogénica, presentó los valores más altos de diversidad de especies de murciélagos y de ectoparásitos. La filoespecificidad de los estréblidos no presentó cambios significativos entre los diferentes tipos de paisaje del estudio. La consideración de factores antropogénicos que afecten la riqueza, abundancia y diversidad de los ectoparásitos, así como la relación filogenética con sus hospederos es esencial para profundizar en el estudio de las asociaciones hospedero-parásito.
Citas
Abella-Medrano CA, Ibáñez-Bernal S, Macgregor-Fors I, Santiago-Alarcon D (2015) Spatiotemporal variation of mosquito diversity (Diptera: Culicidae) at places with different land-use types within a neotropical montane cloud forest matrix. Parasites and Vectors 8: 487. Doi: 10.1186/s13071-015-1086-9.
Bezerra RHS, de Vasconcelos PF, Bocchiglieri A (2016) Ectoparasites of bats (Mammalia: Chiroptera) in Atlantic forest fragments in north-eastern Brazil. Parasitology Research 115: 3759-3765.
Bininda-Emonds ORP, Cardillo M, Jones KE, Macphee RDE, Beck RMD, Grenyer R, Price SA, Vos RA, Gittleman JL, Purvis A (2007) The delayed rise of present-day mammals. Nature 446: 507?12. https://doi.org/10.1038/nature05634
Bolívar-Cimé B, Cuxim-Koyoc A, Reyes-Novelo E, Morales-Malacara JB, Laborde J, Flores-Peredo R (2018). Habitat fragmentation and the prevalence of parasites (Diptera, Streblidae) on three Phyllostomid bat species. Biotropica 50: 90-97
Ceballos G, Arroyo-Cabrales J (2012) Lista actualizada de los mamíferos de México. Revista Mexicana de Mastozoología. http://www.ecologia-unam.com.mx/wp-content/uploads/2016/03/Ceballos-y-Arroyo-2012.pdf. Fecha de consulta: 29 de junio de 2018.
Colín-Martínez H, García-Estrada C (2018) Parasite load and new soft tick record (Ixodida: Argasidae) on the bat species Balantiopteryx plicata and Pteronotus parnellii in Oaxaca, Mexico. Journal of Vector Ecology 43: 190-192.
Colín-Martínez H, Morales-Malacara JB, García-Estrada C (2018) Epizoic fauna survey on phyllostomid bats (Chiroptera: Phyllostomidae) in a shaded coffee plantation of southeastern Chiapas, Mexico. Journal of Medical Entomology 55: 172-182.
Cristóbal CV, Méndez JLA, Canche JMP, Hernández ER (2014). Indicadores de diversidad, estructura y riqueza para la conservación de la biodiversidad vegetal en los paisajes rurales. Tropical and Subtropical Agroecosystems 17: 185-196.
Cuxim-Koyoc A, Reyes-Novelo E, MacSwiney MC, Pech-Canché JM (2018) Moscas ectoparásitas de murciélagos (Diptera: Streblidae y Nycteribiidae) del valle de Uxpanapa, Veracruz, México. Revista Mexicana de Biodiversidad 89: 1074-1088.
Czenze ZJ, Broders HG (2011) Ectoparasite community structure of two bats (Myotis lucifugus and M. septentrionalis) from the maritimes of Canada. Journal of Parasitology Research 2011: 1-9. doi: 10.1155/2011/341535.
Daily GC, Ceballos G, Pacheco J, Suzán G, Sanchez-Azofeifa A (2014) Countryside biogeography of neotropical mammals: Conservation opportunities in agricultural landscape of Costa Rica. Conservation Biology 17: 1814-1826.
de Almeida JC, Gomes LAC, Owen RD (2017) Morphometric variation in Periglischrus torrealbai (Acari: Spinturnicidae) on three species of host bats (Chiroptera: Phyllostomidae) with a new record of host species. Parasitology Research 117: 257-264.
Dick CW, Dittmar K (2014) Parasitic bat flies (Diptera: Streblidae and Nycteribiidae): Host specificity and potential as vectors. In: Klimpel S, Mehlhorn H (eds) Bats (Chiroptera) as vectors of diseases and parasites. Vol. 5. Berlin: Springer-Verlag Berlin Heidelberg. pp: 131-156.
Dittmar K, Morse SF, Dick CW, Patterson BD (2015) Bat fly evolution form the Eocene to the present (Hippoboscoidea: Streblidae and Nycteribiidae. In: Morand S, Krasnov BR, Littlewood DTJ (eds). Parasite diversity and diversification: Evolutionary ecology meets phyllogenetics, Cambridge University Press, Cambridge, United Kingdom. pp. 246-264.
Dittmar K, Porter ML, Murray S, Whiting MF (2006) Molecular phylogenetic analysis of nycteribiid and streblid bat flies (Diptera: Brachycera, Calyptratae): Implications for host associations and phylogeographic origins. Molecular Phylogenetics and Evolution 38: 155-170.
Estrada-Contreras I, Equihua M, Castillo-Campos G, Rojas-Soto O (2015) Climate change and effects on vegetation in Veracruz, México: an approach using ecological niche modelling. Acta Botanica Mexicana 93: 73-93.
Frank HK, Mendenhall CD, Judson SD, Daily GC, Hadly EA (2016) Anthropogenic impacts on Costa Rican bat parasitism are sex specific. Ecology and Evolution 6: 4898-4909.
Froeschke G, van der Mescht L, McGeoch M, Matthee S (2013) Life history strategy influences parasite responses to habitat fragmentation. International Journal for Parasitology 43: 1109-1118.
Gay N, Olival KJ, Bumrungsri S, Siriaroonrat B, Bourgarel M, Morand S (2014) Parasite and viral species richness of Southeast Asian bats: Fragmentation of area distribution matters. International Journal for Parasitology: Parasites and Wildlife 3: 161-170.
Gonçalves F, Fischer E, Dirzo R (2017) Forest conversion to cattle ranching differentially affects taxonomic and functional groups of Neotropical bats. Biological Conservation 210: 343-348.
González-Acuña D, Saracho-Bottero MN, Ossa G, Guglielmone A, Nava S (2018) Ixodes chilensis Kohks, 1956 (Acari: Ixodida: Ixodidae): Re-description of the female, description of the nymph, and phylogenetic position inferred from mitochondrial DNA sequences of the 16S rRNA gene. Systematic Parasitology 9: 959-967.
Hernández-Martínez J, Morales-Malacara JB, Alvarez-Añorve MY, Amador-Hernández S, Oyama K, Avila Cabadilla LD (2018). Drivers potentially influencing host-bat fly interactions in anthropogenic neotropical landscapes at different spatial scales. Parasitology 146: 74-88.
Kazak C, Döker ˙ I, Karut K (2017) First record of invasive tomato spider mite Tetranychus evansi (Acari: Tetranychidae) in Turkey. International Journal of Acarology 43: 325-328.
Krasnov BR, Shenbrot GI, Khokhlova IS, Degen AA (2004) Relationship between host diversity and parasite diversity: Flea assemblages on small mammals. Journal of Biogeography 31: 1857-1866.
Kunz TH, de Torrez EB, Bauer D, Lobova T, Fleming TH (2011) Ecosystem services provided by bats. Annals of the New York Academy of Sciences 1223: 1-38.
López-Pérez AM, Gage K, Rubio AV, Montenieri J, Orozco L, Suzán G (2018) Drivers of flea (Siphonaptera) community structure in sympatric wild carnivores in northwestern Mexico. Journal of Vector Ecology 43: 15-25.
Lourenço EC, Almeida JC, Famadas KM (2016) Richness of ectoparasitic flies (Diptera: Streblidae) of bats (Chiroptera) a systematic review and meta-analysis of studies in Brazil. Parasitology Research 115: 4379-4388.
Mackenzie K, Hemmingsen W (2014) Parasites as biological tags in marine fisheries research: European Atlantic waters. Parasitology 142: 54-67.
Medellín RA, Arita HT, Sánchez HO (2008) Identificación de los murciélagos de México, clave de campo. 2a ed. Instituto de Ecología, Universidad Nacional Autónoma de México. México. 28-51.
Medellín RA, Equihua M, Amín MA (2000). Bat diversity and abundance as indicators of disturbance in neotropical rainforest. Conservation Biology 14: 1666-1675. https://doi.org/10.1111/j.1523-1739.2000.99068.x.
Newbold T, Hudson LN, Hill SLL, Contu S, Lysenko I, Senior RA, Börger L, Bennett DJ, Choimes A, Collen B, Day J, De Palma A, Díaz S, Echeverria-Londoño S, Edgar MJ, Feldman A, Garon M, Harrison MLK, Alhusseini T, Ingram DJ, Itescu Y, Kattge J, Kemp V, Kirkpatrick L, Kleyer M, Correia DLP, Martin CD, Meiri S, Novosolov M, Pan Y, Phillips HRP, Purves DW, Robinson A, Simpson J, Tuck SL, Weiher E, White HJ, Ewers RM, Mace GM, Scharlemann JPW, Purvis A (2015) Global effects of land use on local terrestrial biodiversity. Nature 520: 45-50.
Patterson BD, Dick CW, Dittmar K (2007) Roosting habits of bats affect their parasitism by bat flies (Diptera: Streblidae). Source Journal of Tropical Ecology 23: 177-189.
Patterson BD, Dick CW, Dittmar K (2008) Parasitism by bat flies (Diptera: Streblidae) on neotropical bats: Effects of host body size, distribution, and abundance. Parasitology Research 103: 1091-1100.
Pérez-Nicolás M, Vibrans H, Romero-Manzanares A (2018) Can the use of medicinal plants motivate forest conservation in the humid mountains of Northern Oaxaca, Mexico?. Botanical Sciences 96: 267-285.
Pilosof S, Dick CW, Korine C, Patterson BD, Krasnov BR (2012) Effects of Anthropogenic disturbance and climate on patterns of bat fly parasitism. Plos One 7: 1-7 e41487. Doi: 10.1371/journal.pone.0041487.
Poulin R, Krasnov BR, Mouillot D (2011) Host specificity in phylogenetic and geographic space. Trends in Parasitology 27: 355-361
Presley SJ (2010) Interspecific aggregation of ectoparasites on bats: importance of hosts as habitats supersedes interspecific interactions. Oikos 120: 832-841.
Ramírez-Pulido J, González-Ruiz N, Gardner AL, Arroyo-Cabrales J (2014) List of recent land mammals of Mexico, 2014. Special Publications Museum of Texas Tech University 63: 1-69.
Rico-Chávez O, Ojeda Flores R, Sotomayor Bonilla J, Zambrana-Torrelio C, Loza Rubio E, Alonso Aguirre A, Suzán G (2015) Viral diversity of bat communities in human-dominated landscapes in Mexico. Veterinaria México 2: 1-22.
Ries L, Fletcher RJ, Battin J, Sisk TD (2004) Ecological responses to habitat edges: mechanisms, models, and variability explained. Annual Review of Ecology Evolution and Systematics 35: 491-522
Russo D, Jones G (2015) Bats as indicators: an introduction. Mammalian Biology 80: 157-158.
Sikes RS, Bryan JA (2016) Guidelines of the American Society of Mammalogists for the use of wild mammals in research and education. Journal of Mammalogy 97: 663-688.
Suzán G, Marcé E, Giermakowski JT, Armién B, Pascale J, Mills J, Ceballos G, Gómez A, Aguirre AA, Salazar-Bravo J, Armién A, Parmenter R, Yates T (2008) The effect of habitat fragmentation and species diversity loss on hantavirus prevalence in Panama. Annals of the New York Academy of Sciences 1149: 80-83.
Tello JS, Stevens RD, Dick CW (2008) Patterns of species co-occurrence and density compensation: A test for interspecific competition in bat ectoparasite infracommunities. Oikos 117: 693-702.
Ter Hofstede HM, Fenton MB (2005) Relationships between roost preferences, ectoparasite density, and grooming behaviour of neotropical bats. Journal of Zoology 266: 333-340.
Tlapaya-Romero L, Horváth A, Gallina-Tessaro S, Naranjo E, Gómez B (2015). Prevalencia y abundancia de moscas parásitas asociadas a una comunidad de murciélagos cavernícolas en La Trinitaria, Chiapas, México. Revista Mexicana de Biodiversidad 86: 377-385.
Trilleras JM, Jaramillo VJ, Vega EV, Balvanera P (2015) Effects of livestock management on the supply of ecosystem services in pastures in a tropical dry region of western Mexico. Agriculture, Ecosystems and Environment 211: 133-144.
Voigt CC, Kingston T (2016) Bats in the Anthropocene. En: Voigt CC, Kingston T (eds) Bats in the anthropocene: Conservation of bats in a changing world. New York: Springer International Publishing. pp: 1-9
Wenzel RL (1976) The Streblid batflies of Venezuela (Diptera: Streblidae). Brigham Young University Science Bulletin Biological Series 20: 1-177.
Wenzel RL, Tipton VJ, Kiewlicz A (1966) The streblid batflies of Panama (Diptera: Streblidae). In: Wenzel RL, Tipton VJ (eds). Ectoparasites of Panama, Field Museum of Natural History, Chicago, pp: 405-675.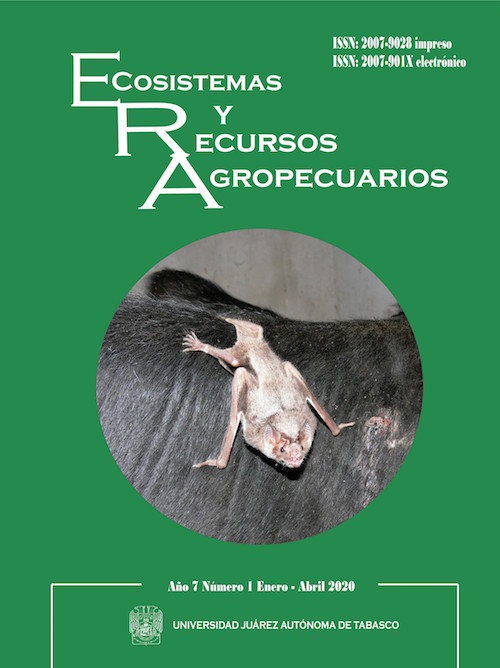 Descargas
Cómo citar
Orta-Pineda, G., Rodríguez-Valencia, V. M., Rico-Chávez, O., Zamora-Bárcenas, D. F., Rodríguez-Moreno, Ángel, Montiel-Parra, G., Arenas-Montaño, M., Galindo-Maldonado, F. A., Suzán-Azpiri, G., & Ojeda-Flores, R. (2019). Composición de comunidades y filoespecificidad de ectoparásitos de murciélagos en paisajes agropecuarios de Veracruz, México. Ecosistemas Y Recursos Agropecuarios, 7(1). https://doi.org/10.19136/era.a7n1.2059
Sección
ARTÍCULOS CIENTIFICOS
Licencia
1. Política propuesta para revistas de acceso abierto
Los autores/as que publiquen en esta revista aceptan las siguientes condiciones: 
1. Los autores/as conservan los derechos de autor y ceden a la revista el derecho de la primera publicación, con el trabajo registrado con la licencia de atribución de Creative Commons, que permite a terceros utilizar lo publicado siempre que mencionen la autoría del trabajo y a la primera publicación en esta revista.
2. Los autores/as pueden realizar otros acuerdos contractuales independientes y adicionales para la distribución no exclusiva de la versión del artículo publicado en esta revista (p. ej., incluirlo en un repositorio institucional o publicarlo en un libro) siempre que indiquen claramente que el trabajo se publicó por primera vez en esta revista.
3. Se permite y recomienda a los autores/as a publicar su trabajo en Internet (por ejemplo en páginas institucionales o personales) antes y durante el proceso de revisión y publicación, ya que puede conducir a intercambios productivos y a una mayor y más rápida difusión del trabajo publicado (vea The Effect of Open Access).
This work is licensed under a
Creative Commons Attribution-NonCommercial-NoDerivatives 4.0 International License
.