Detección de Escherichia coli productora de toxina-Shiga en bovinos asintomáticos del sur de Sonora, México
Resumen
La crianza de ganado bovino es vital para la producción de
carne, que en México es una actividad esencial. El bovino es portador
asintomático de Escherichia coli productora de toxina Shiga (STEC), y
son considerados el principal reservorio y súper propagadores del serotipo O157:H7. Este representa el primer reporte sobre STEC O157:H7 detectada en heces de bovinos asintomáticos, criados para abasto de carne en el noroeste de México. El objetivo fue identificar el serotipo STEC O157:H7 en bovinos asintomáticos criados en el sur de Sonora, México empleando PCR multiplex para con ello avanzar en el entendimiento de su capacidad propagadora. La incidencia de la STEC O157:H7 fue del 3.1% y de STEC no O157 de 19.8%. Estos resultados sugieren que el ganado bovino es un reservorio primario de STEC en esta región del país; sin embargo, es necesario profundizar para establecer si el patógeno contamina otras matrices como agua o alimentos.


Citas
Amézquita-López B, Quiñones B, Cooley M, León-Félix J, Castro-del Campo N, Mandrell R, Jiménez M, and Chaidez C (2012) Genotypic Analyses of Shiga Toxin-Producing Escherichia coli O157 and Non-O157 Recovered from Feces of Domestic Animals on Rural Farms in Mexico. PLOS ONE 7: e51565. DOI:10.1371/journal.pone.0051565.
Ateba C, and Mbewe M (2011) Detection of Escherichia coli O157:H7 virulence genes in isolates from beef, pork, water, human and animal species in the northwest province, South Africa: public health implications. Research in Microbiology 162: 240-248. DOI:10.1016/j.resmic.2010.11.008 .
Bertrand R, and Roig B (2007) Evaluation of enrichment-free PCR-based detection on the rfbE gene of Escherichia coli O157-application to municipal wastewater. Water Research 41: 6-1280. DOI:10.1016/j.watres.2006.11.027 .
Bettelheim A (2000) Role of non-O157 VTEC. Society for Applied Microbiology 88: 38-50. DOI:10.1111/j.1365-2672.2000.tb05331.x .
Callaway T, Edrington T, Loneragan G, Carr M, and Nisbet D (2013) Shiga Toxin-producing Escherichia coli (STEC) ecology in cattle and management based options for reducing fecal shedding. Agriculture, Food and Analytical Bacteriology 3: 39-69.
Cobbaut K, Berkvens D, Houf K, De Deken R, and De Zutter L (2009) Escherichia coli O157 Prevalence in Different Cattle Farm Types and Identification of Potential Risk Factors. Journal of Food Protection 72: 1848-1853. DOI:10.4315/0362-028X-72.9.1848 .
Cristancho L, Johnson R, McEwen S, and Gyles C (2008) Escherichia coli O157:H7 and other Shiga toxin-producing E. coli in white veal calves. Veterinary Microbiology 126: 200-209. DOI:10.1016/j.vetmic.2007.06.012 .
Chase-Topping M, Gally D, Low C, Matthews L, and Woolhouse M (2008) Super-shedding and the link between human infection and livestock carriage of Escherichia coli O157. Nature Reviews Microbiology 6: 904. DOI:10.1038/nrmicro2029 .
Farrokh C, Jordan K, Auvray F, Glass K, Oppegaard H, Raynaud S, et al. (2013) Review of Shiga-toxin-producing Escherichia coli (STEC) and their significance in dairy production. International Journal of Food Microbiology 162: 190-212. DOI:10.1016/j.ijfoodmicro.2012.08.008 .
Feng P, and Monday S (2000) Multiplex PCR for detection of trait and virulence factors in enterohemorrhagic Escherichia coli serotypes. Molecular and Cellular Probes 14: 333-337. DOI:10.1006/mcpr.2000.0323 .
Feng P, Weagnant S, and Jinneman K (2017) Bacteriological Analytical Manual (BAM), Chapter 4A: Diarrheagenic Escherichia coli. 1-30 pp. New Hampshire, USA. U.S. Food and Drug Administration Publishers.
https://www.fda.gov/Food/FoodScienceResearch/LaboratoryMethods/ucm070080.htm . Fecha de consulta: 10 de abril de 2019.
Ferens W, and Hovde C (2011) Escherichia coli O157:H7 animal reservoir and sources of human infection. Foodborne Pathogens Disease 8: 465-487. DOI:10.1089/fpd.2010.0673.
Fremaux B, Prigent-Combaret C, and Vernozy-Rozand C (2008) Long-term survival of Shiga toxin-producing Escherichia coli in cattle effluents and environment: An updated review. Veterinary Microbiology 132: 1-18.
DOI:https://doi.org/10.1016/j.vetmic.2008.05.015 .
Kobayashi H, Shimada J, Nakazawa M, Morozumi T, Pohjanvirta T, Pelkonen S, and Yamamoto K (2001) Prevalence and characteristics of shiga toxin-producing Escherichia coli from healthy cattle in Japan. Applied and Environmental Microbiology 67: 484-489. DOI:10.1128/aem.67.1.484-489.2001 .
Navarro A, Cauich-Sánchez P, Trejo A, Gutiérrez A, Díaz S, Díaz C, Cravioto A, et al. (2018) Characterization of Diarrheagenic Strains of Escherichia coli Isolated From Cattle Raised in Three Regions of Mexico. Frontiers in Microbiology 9. DOI:10.3389/fmicb.2018.02373 .
Nguyen T, Van Giau V, and Vo T (2016) Multiplex PCR for simultaneous identification of E. coli O157:H7, Salmonella spp. and L. monocytogenes in food. 3 Biotech 6: 205. DOI:10.1007/s13205-016-0523-6
OIE. (2008) Manual Terrestre. Capitulo 2.9.10. Escherichia coli Verocitotoxigenica. 2-13 p. www.oie.int/es/normas/manual-terrestre/acceso-en-linea/. Fecha de consulta: 17 de Enero de 2019.
Schuller S (2011) Shiga toxin interaction with human intestinal epithelium. Toxins (Basel) 3: 626-639. DOI:10.3390/toxins3060626
SIAP (2018) Servicio de Información Agroalimentaria y pesquera, Atlas Agroalimentario. Mexico.
https://nube.siap.gob.mx/gobmx_publicaciones_siap/pag/2018/Atlas-Agroalimentario-2018. Fecha de consulta: 07 de Enero de 2019.
Thapa S, Reum-Han A, Mo Cho J, and Hur J (2012) Multiplex PCR and DNA array for the detection of Bacillus cereus, Staphylococcus aureus, Listeria monocytogenes, Escherichia coli O157:H7 , and Salmonella spp. targeting virulence-related genes. Annals of Microbiology 63. 725-731. DOI:10.1007/s13213-012-0526-4 .
Zelyas N, Poon A, Patterson-Fortin L, Johnson R, Lee W, and Chui L (2016) Assessment of commercial chromogenic solid media for the detection of non-O157 Shiga toxin-producing Escherichia coli (STEC). Diagnostic Microbiology and Infectious Disease 85: 302-308. DOI:10.1016/j.diagmicrobio.2016.03.013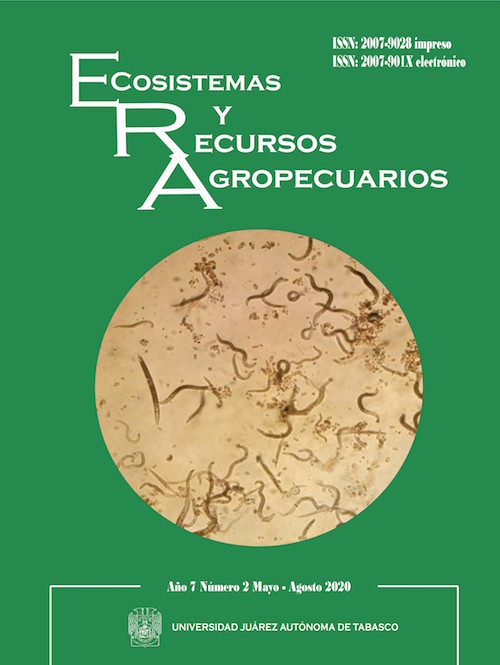 Descargas
Cómo citar
Rivas-Ruiz, C. M., Cantú-Soto, E. U., Maldonado-Mendoza, I. E., Figueroa-López, A. M., Anduro-Jordan, J. A., Luna-Nevarez, P., & López-Castro, P. A. (2020). Detección de Escherichia coli productora de toxina-Shiga en bovinos asintomáticos del sur de Sonora, México. Ecosistemas Y Recursos Agropecuarios, 7(2). https://doi.org/10.19136/era.a7n2.2240
Sección
NOTAS CIENTÍFICAS
Licencia
1. Política propuesta para revistas de acceso abierto
Los autores/as que publiquen en esta revista aceptan las siguientes condiciones: 
1. Los autores/as conservan los derechos de autor y ceden a la revista el derecho de la primera publicación, con el trabajo registrado con la licencia de atribución de Creative Commons, que permite a terceros utilizar lo publicado siempre que mencionen la autoría del trabajo y a la primera publicación en esta revista.
2. Los autores/as pueden realizar otros acuerdos contractuales independientes y adicionales para la distribución no exclusiva de la versión del artículo publicado en esta revista (p. ej., incluirlo en un repositorio institucional o publicarlo en un libro) siempre que indiquen claramente que el trabajo se publicó por primera vez en esta revista.
3. Se permite y recomienda a los autores/as a publicar su trabajo en Internet (por ejemplo en páginas institucionales o personales) antes y durante el proceso de revisión y publicación, ya que puede conducir a intercambios productivos y a una mayor y más rápida difusión del trabajo publicado (vea The Effect of Open Access).
This work is licensed under a
Creative Commons Attribution-NonCommercial-NoDerivatives 4.0 International License
.