Human-wildlife conflicts in Mexico: Review of status and perspectives
Palabras clave:
Conservation, impacts, interactions, perceptions, protected areas
Resumen
Human wildlife conflicts (HWC) represent a global challenge for the conservation of species. We registered all the available scientific publications on this subject from 1983 to 2017, in order to analyze the HWC research performed in Mexico. Our results indicate that this subject has been scarcely studied, with less than half of the studies published in scientific journals. The reviewed documents focus on the description and quantification of damage by wildlife, with a total of 112 species mentioned including birds, amphibians, mammals and reptiles that damage crops, livestock, poultry, and human health. Of these, nine species made up 41% of the total amount of species that were mentioned. We believe that adequate management and resolution of HWC requires the participation and training of groups of multidisciplinary scientists and technicians. Research in Mexico is scarce and recent and is mostly promoted by the conservation programs and strategies implemented by the federal government.
Citas
Anand S, Radhakrishna S (2017) Investigating trends in human-wildlife conflict: is conflict scalation real or imagined. Journal of Asia-Pacific Biodiversity 10: 154-161.
Anaya-Zamora V, López-González C, Pineda-López R (2017) Factores asociados en el conflicto humano-carnívoro en un área natural protegida en el centro de México (Associated factors in the human-carnivorous conflict in a protected natural area in Mexico). Ecosistemas y Recursos Agropecuarios 4: 381-393.
Arroyo-Quiroz I, García-Barrios R, Argueta-Villamar A, Smith R, Pérez-Gil R (2017) Local perspectives on conflicts with wildlife and their management in the Sierra Gorda Biosphere, México. Journal of Ethnobiology 37: 719-742.
Arroyo-Rodríguez V, Moreno C, Galán-Acedo C (2017) La ecología del paisaje en México: logros, desafíos y oportunidades en las ciencias biológicas (Landscape ecology in Mexico: achievement, challenges and opportunities in biological sciences). Revista Mexicana de Biodiversidad 88: 42-51.
Baynham-Herd Z, Redpath S, Bunnefeld N, Molony T, Keane A (2018) Conservation conflicts: Behavioural threats, frames, and intervention recommendations. Biological Conservation 222: 180-188.
Bezaury-Creel J, Gutiérrez-Carbonell D (2009) Áreas naturales protegidas y desarrollo social en México. En: Capital natural de México. Soberón J, Halfter G, Llorente-Busquets J (Comps). Comisión Nacional para el Conocimiento y Uso de la Biodiversidad. México. pp: 385-431
Ceballos G, Simonetti J (2002) Diversidad y conservación de los mamíferos neotropicales. Comisión Nacional para el Conocimiento y Uso de la Biodiversidad. México. 582p.
Chávez C, Zarza H (2009) Distribución potencial del Hábitat del Jaguar y áreas de conflicto humano-jaguar en la península de Yucatán. Revista Mexicana de Mastozoología 13: 46-62.
CONABIO (2015) Áreas naturales protegidas estatales, municipales, ejidales y privadas de México 2015. http://www.conabio.gob.mx/informacion/metadata/loc/anpmex16gw.xml?_httpcache=yes&_xsl=/db/metadata/xsl/fgdc_html.xsl&_indent=no Date of consultation: September 15, 2018.
Cupul-Magaña F, Rubio-Delgado A, Reyes-Núñez C, Torres-Campos E, Solis-Pecero L (2010) Ataques de cocodrilo de río (Cocodylus acutus) en Puerto Vallarta, Jalisco, México: Presentación de cinco casos. Cuadernos de Medicina Forense 16: 153-160.
García-Grajales J (2013) El conflicto Hombre-Cocodrilo en México: Causas e implicaciones. Interciencia 38: 881-884.
García-Grajales J, Buenrostro-Silva A (2013) New record of a non-fatal attack by an American crocodile and geographic analysis of historical attacks in Oaxaca. Cocodrile Specialist Group Newsletter 32: 14-16.
Greenway J (1967) Extinct and Vanishing Birds of the World. 2ed. New York: Dover Pubns. 520p.
Hill C (2004) Farmers perspective on conflict at the wildlife agriculture boundary: Some lessons learned from African subsistence farmers. Human Dimensions of Wildlife 9: 279-286.
Hoogesteijn A, López C, Núñez R, Rosas-Rosas O, Flebes J (2016) El jaguar y las comunidades rurales: uso de densidad humana y bovina para identificar zonas de conflicto a nivel nacional en México. En: Castaño-Uribe C, Lasso R, Hoogesteijn A, Díaz-Pulido A, Payan E (eds), Conflictos entre felinos y humanos en Latinoamérica. Bogotá, Colombia. Serie Editorial Fauna Silvestre Neotropical. pp: 49-60.
Inskyp C, Zimmermann A (2009) Human-felid conflict: a review of patterns and priorities worldwide. Oryx 43: 18-34.
Lamarque F, Anderson J, Ferguson R, Lagrange M, Osei-Owusu Y, Bakker L (2009) Human-wildlife conflicts in Africa: causes, consequences and management strategies. Forestry paper. FAO. Roma, Italia. 157. 96p.
List R, Rodríguez P, Pelz-Serrano K, Benítez-Malvido J, Lobato J (2017) La conservación en México: exploración y logros, retos y perspectivas desde la ecología terrestre. Revista Mexicana de Biodiversidad 88: 65-75.
López-Barrera F, Martínez-Garza C, Ceccon E (2017) Ecología de la restauración en México: estado actual y perspectivas. Revista Mexicana de Biodiversidad 88: 97-112.
López-Medellín X, Bernardo L, Valenzuela-Galván D,Wehncke E, Maldonado-Almanza B, Durand-Smith L (2017) Percepciones de los habitantes de la Reserva de la Biosfera Sierra de Huautla: Hacia el desarrollo de nuevas estrategias de manejo participativo. Interciencia 42: 8-16.
Madden F (2004) Creating coexistence between humans and wildlife: Global perspectives on local efforts to address human-wildlife conflict. Human Dimensions of Wildlife 9: 247-247.
Marchini S (2014) Dimensiones humanas de los conflictos con fauna silvestre: El caso de Brasil. Aluna 5: 48-52.
Márquez R, Goldstein I (2014) Guía para el diagnóstico del paisaje del conflicto oso-gente V1.0. Santiago de Cali, Colombia. Wildlife Conservation Society. 36p.
Morzillo A, De Beurs K, Matin-Mikle C (2014) A Conceptual framework to evaluate human-wildlife interactions within coupled human and natural systems. Ecology and Society 19: 44.
Neto M, Neto D, Haddad V (2011) Attacks by jaguars (Panthera onca) on humans in Central Brazil: Report of three cases, with observation of a death. Wilderness Environmental Medicine 22: 130-135.
Peña-Mondragón J, Castillo A, Hoogesteijn A, Martínez-Meyer E (2016) Livestock predation by jaguars Panthera onca in south-eastern Mexico: the role of local peoples' practices. Oryx 51: 254-262.
Peña-Mondragón J, García A, Vega J, Castillo A (2013) Interacciones y percepciones sociales con cocodrilo de río (Crocodylus acutus) en la costa sur de Jalisco, México. Revista Biodiversidad Neotropical 3: 37-41.
Romero-Balderas K, Naranjo E, Morales H, Nigh R (2006) Daños ocasionados por vertebrados silvestres al cultivo de maíz en la selva lacandona, Chiapas, México. Interciencia 31: 276-283.
Rosas-Rosas O, Bender L, Valdez R (2008) Jaguar and Puma predation on cattle calves in Northeastern Sonora, Mexico. Rangeland Ecology Management 61: 554-560.
SEMARNAT (2010) Norma Oficial Mexicana NOM-059-SEMARNAT-2010, Protección ambiental-especies nativas de México de flora y fauna silvestres categorías de riesgo y especificaciones para su inclusión, exclusión o cambio - Lista de especies en riesgo. Diario Oficial de la Federación 2454: 1-77.
SEMARNAT-CONANP (2017). Áreas Naturales Protegidas Federales. http://sig.conanp.gob.mx/website/pagsig/datos_anp.htm. Date of consultation: September 15, 2018.
Tejeda-Cruz C, Naranjo-Piñera E, Medina-Sanson L, Guevara-Hernández F (2014) Cacería de subsistencia en comunidades rurales de la selva Lacandona, Chiapas, México. Quehacer Cientifico Chiapas 9: 59-73.
Treves A, Wallace R, Naughton-Treves L, Morales A (2006) Co-Managing human wildlife conflicts: A review. Human Dimensions of Wildlife 11: 383-396.
Woodroffe R, Thirgood S, Rabinowitz A (2005) The impact of human-wildlife conflict on natural systems. In: Woodroffe R, Thirgood S, Rabinowitz A (eds), People and wildlife, conflict or co-existence? Cambridge University Press. England. pp1-12.
Zarco-González M, Monroy-Vilchis O, Alaníz J (2013) Spatial model of livestock predation by jaguar and puma in Mexico: Conservation planning. Biological Conservation 159: 80-87.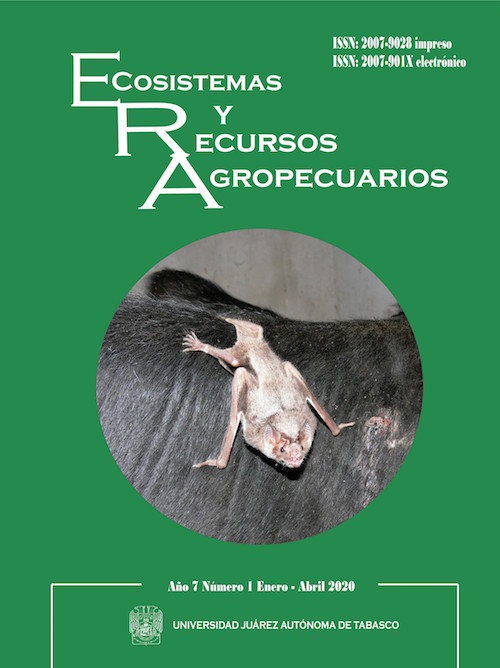 Descargas
Cómo citar
Flores-Armillas, V. H., Valenzuela-Galván, D., Peña-Mondragón, J. L., & López-Medellín, X. (2019). Human-wildlife conflicts in Mexico: Review of status and perspectives. Ecosistemas Y Recursos Agropecuarios, 7(1). https://doi.org/10.19136/era.a7n1.2274
Sección
ARTÍCULOS CIENTIFICOS
Licencia
1. Política propuesta para revistas de acceso abierto
Los autores/as que publiquen en esta revista aceptan las siguientes condiciones: 
1. Los autores/as conservan los derechos de autor y ceden a la revista el derecho de la primera publicación, con el trabajo registrado con la licencia de atribución de Creative Commons, que permite a terceros utilizar lo publicado siempre que mencionen la autoría del trabajo y a la primera publicación en esta revista.
2. Los autores/as pueden realizar otros acuerdos contractuales independientes y adicionales para la distribución no exclusiva de la versión del artículo publicado en esta revista (p. ej., incluirlo en un repositorio institucional o publicarlo en un libro) siempre que indiquen claramente que el trabajo se publicó por primera vez en esta revista.
3. Se permite y recomienda a los autores/as a publicar su trabajo en Internet (por ejemplo en páginas institucionales o personales) antes y durante el proceso de revisión y publicación, ya que puede conducir a intercambios productivos y a una mayor y más rápida difusión del trabajo publicado (vea The Effect of Open Access).
This work is licensed under a
Creative Commons Attribution-NonCommercial-NoDerivatives 4.0 International License
.