Ubicación de la proteína VirD4 de Anaplasma marginale en eritrocitos infectados mediante suero específico por inmunofluorescencia
Resumen
Mediante el análisis del genoma de Anaplasma marginale se han identificado proteínas del sistema de secreción tipo IV, asociadas a la transferencia de sustratos entre bacterias y otros organismos. La proteína VirD4 de este sistema, en otros modelos bacterianos, se asocia con la translocación de proteínas y complejos proteicos involucrados en procesos biológicos que implican la interacción con células hospederas, lo que indica que en A. marginale podría estar asociada a la invasión y supervivencia dentro del eritrocito. Por estas razones los objetivos del presente estudio fueron analizar mediante herramientas bioinformáticas el grado de conservación de la proteína VirD4 entre diferentes cepas mexicanas, e identificar su presencia en la membrana externa en formas infectantes de A. marginale en eritrocitos de bovinos. El análisis de las secuencias nucleótidicas y aminoacídicas de VirD4 mostró 100% de identidad entre los aislados. El péptido sintético ramificado diseñado con base en los análisis reaccionó con sueros de bovinos inmunes e infectados mediante ELISA. Anticuerpos específicos contra MAPVirD4 reaccionaron por inmunofluorescencia indirecta con cuerpos iniciales de A. marginale intraeritrocíticos. Con estos hallazgos inferimos que VirD4 es una proteína conservada que aparentemente se expresa durante la invasión a eritrocitos o es parte importante de la supervivencia de la rickettsia durante la infección, lo que nos indica que el péptido podría ser identificado por la respuesta inmune del bovino durante el proceso de infección, considerándolo como posible candidato vacunal.
Citas
Acosta KY, Zavala JE (1996) Proteínas de unión a DNA. Revista Biomédica. 7: 163-172.
Araújo FR, Costa CM, Ramos CA, Farias TA, Souza II, Melo ES, et al. (2008) IgG and IgG2 antibodies from cattle naturally infected with Anaplasma marginale recognize the recombinant vaccine candidate antigens VirB9, VirB10, and elongation factor-Tu. Memorias do Instituto Oswaldo Cruz. 103:186-190.
Atmakuri K, Ding Z, Christie PJ (2003) VirE2 a Type IV secretion substrate, interacts with the VirD4 transfer protein at cell poles of Agrobacterium tumefaciens. Molecular Microbiology 49: 1699-1713.
Aubry P, Geale DW (2011) A review of bovine anaplasmosis. Transbound Emerging Diseases 58: 1-30.
Christie PJ, Vogel JP. (2000) Bacterial type IV secretion: conjugation systems adapted to deliver effector molecules to host cells. Trends Microbiology. 8: 354–360.
González-Pedrajo B, Dreyfus G. (2003) Sistemas de secreción de proteínas en las bacterias gram negativas: biogénesis flagelar y translocación de factores de virulencia. Mensaje Bioquímico. XXVII: 45-63.
Gillespie JJ. Ammerman NC, Dreher-Lesnick SM, Worley MJ, Setubal JC, Sobral BS, et al. (2009) An anomalous type IV secretion system in rickettsia is evolutionarily conserved. Plos One. 4: e4833.
Jiménez Ocampo R., Vega Munguía C. Rodríguez SD. (2012) Diversidad genética de la región variable de los genes msp1a y msp4 en cepas de Anaplasma marginale de México. Revista Mexicana de Ciencias Pecuaria. 3: 373-387.
Juhas M, van der Merr Jr, Gaillard M, Harding RM, Hood DW, Crook Dw. (2012) Genomic islasnds: tools of bacterial horizontal genes transfer and evolution. Fems Microbiogy Reviews 33: 376-93.
Llosa M, Gomis FX, Coll M, de la Cruz F. (2002) Bacterial conjugation: a two-step mechanism for DNA transport. Molecular Microbiology, 45: 1-8.
Ocampo-Espinoza V, Salazar Vázquez JE, Durán Aguilar M, García Ortiz MA, Cantó Alarcón GJ, Rodríguez SD. (2006) Anaplasma marginale: Lack of Cross-Protection between strains that share MSP1a variable region and MSP4. Veterinary Microbiology 114: 34-40.
Potgieter FT, van Rensburg L. (1987a) Tick transmission of Anaplasma centrale. Onderstepoort Journal Veterinary Research. 54: 5-7.
Redzej A, Ukleja M, Connery S, Trokter M, Felisberto-Rodrigues C, et al. (2017) Structure of a VirD4 coupling protein bound to a VirB type IV secretion machinery. The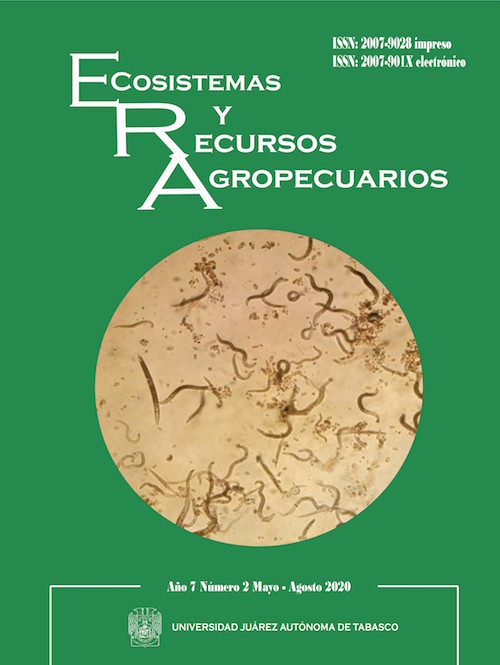 Descargas
Cómo citar
Barrera-Molina, A. I., & Rodríguez-Camarillo, S. D. (2020). Ubicación de la proteína VirD4 de Anaplasma marginale en eritrocitos infectados mediante suero específico por inmunofluorescencia. Ecosistemas Y Recursos Agropecuarios, 7(2). https://doi.org/10.19136/era.a7n2.2304
Sección
ARTÍCULOS CIENTIFICOS
Licencia
1. Política propuesta para revistas de acceso abierto
Los autores/as que publiquen en esta revista aceptan las siguientes condiciones: 
1. Los autores/as conservan los derechos de autor y ceden a la revista el derecho de la primera publicación, con el trabajo registrado con la licencia de atribución de Creative Commons, que permite a terceros utilizar lo publicado siempre que mencionen la autoría del trabajo y a la primera publicación en esta revista.
2. Los autores/as pueden realizar otros acuerdos contractuales independientes y adicionales para la distribución no exclusiva de la versión del artículo publicado en esta revista (p. ej., incluirlo en un repositorio institucional o publicarlo en un libro) siempre que indiquen claramente que el trabajo se publicó por primera vez en esta revista.
3. Se permite y recomienda a los autores/as a publicar su trabajo en Internet (por ejemplo en páginas institucionales o personales) antes y durante el proceso de revisión y publicación, ya que puede conducir a intercambios productivos y a una mayor y más rápida difusión del trabajo publicado (vea The Effect of Open Access).
This work is licensed under a
Creative Commons Attribution-NonCommercial-NoDerivatives 4.0 International License
.