Vegetation on geomorphic surfaces in the Monserrat Island in the Gulf of California
Palabras clave:
Baja California, endemic plants, geomorphic areas, island biogeography, sarcocaule xerophilous scrub.
Resumen
Knowledge about vegetation patterns along topographic gradients is crucial for conservation and management of arid islands. The objective of this study was to identify environmental, soil, and topography variables affecting plant distribution in Monserrat Island. A floristic and environmental survey was undertaken on this island (25° 41' 00" N, 111° 03' 00" W; 19.9 km2) in the Gulf of California, Mexico. Seven geoform zones were distinguished. The vegetation is predominantly a sarcocaule xerophilous scrub which develops mainly in ravines and bottoms of streams. One hundred fourteen species were recorded, of which 33 plants (28.9%) are endemic belonging to 92 genera and 38 families of vascular plants. The most abundant families were: Asteraceae, Euphorbiaceae, Fabaceae, Poaceae, and Cactaceae. The Bursera trees are more abundant in areas with little steep slopes (less than 25◦ ). On areas with steep slopes (greater than 45°), the development of vegetation is scarce. Northern exposure slopes had denser vegetation, with higher canopy cover values. Slope was far more reliably measure for describing vegetation distribution than altitude, although, the latter variable influences Olneya tesota. Euphorbia magdalenae was strongly associated with slope, and both Jouvea pilosa and Marina parryi was influenced by soil characteristics. Jatropha cuneata was found in almost all geoforms. It was concluded that Monserrat Island possesses a distinctive mix of xeric species making this island unique due to the high presence of endemic plants.
Descargas
Los datos de descargas todavía no están disponibles.
Citas
Álvarez-Castañeda ST, Cortés-Calva P, Méndez L, Ortega-Rubio A (2006) Development in the sea of Cortés calls for mitigation. BioScience 56: 825-829.
Bouyoucos GJ (1962) Hydrometer method improved for making particle size analysis of soil. Journal of Agronomy 54: 464-465.
Brooks TM, Mittermeier RA, da Fonseca GAB, Gerlach J, Hoffmann M, Lamoreux JF, Mittermeier CG, Pilgrim JD (2006) Global biodiversity conservation priorities. Science 313: 58–61.
Carrillo-García Á, León De La Luz JL, Bashan Y, Bethlenfalvay GJ (1999) Nurse plants, mycorrhizae, and plant establishment in a disturbed area of the Sonoran Desert. Restoration Ecology 7: 321–335.
Case TJ, Cody ML, Ezcurra E (2002) Island Biogeography of the Sea of Cortés. Oxford University Press. 669 p.
Caujapé-Castells J, Tye A, Crawford DJ, Santos-Guerra A., Sakai A, Beaver K, Cottam G, Curtis JT. 1956. The use of distance measures in phytosociological sampling. Ecology 37: 451-460.
Donlan CJ, Wilcox C (2008) Diversity, invasive species and extinctions in insular ecosystems. Journal of Applied Ecology 45: 1114–1123.
Felger RS, Wilder BT, and Gallo-Reynoso JP (2011) Floristic diversity and long-term vegetation dynamics of San Pedro Nolasco Island, Gulf of California, Mexico. Natural History 43: 1–42.
Felger RS, Wilder BT, Romero-Morales H (2012) Plant Life of a Desert Archipelago: Flora of the Sonoran Islands in the Gulf of California. The Universiy of Arizona Press. Tucson, AZ, 624 pp.
Gillespie RG, Claridge EM, Roderick GK (2008) Biodiversity dynamics in isolated island communities: interaction between natural and human-mediated processes. Molecular Ecology 17: 45–57.
Groves CR, Jensen DB, Valutis LL, Redford KH, Shaffer ML, Scott JM, Baumgartner JV, Higgins JV, Beck MW, Anderson MG (2002) Planning for biodiversity conservation: putting conservation science into practice: A seven-step framework for developing regional plans to conserve biological diversity, based upon principles of conservation biology and ecology, is being used extensively by the nature conservancy to identify priority areas for conservation. BioScience 52: 499–512.
Lluch-Cota SE, Aragón-Noriega EA, Arreguín-Sánchez F, Aurioles-Gamboa D, Bautista-Romero JJ, Brusca RC, Cervantes-Duarte R, Cortés-Altamirano R, Del Monte-Luna P, Esquivel-Herrera A., Fernández G., Hendrickx ME, Hernández-Vázquez S, Herrera-Cervantes H, Kahru M, Lavín M, Lluch-Belda D, Lluch-Cota DB, López-Martínez J, Marinote SG, Nevárez-Martínez MO, Ortega-García S, Palacios-Castro E, Parés-Sierra A, Ponce-Díaz G, Ramírez-Rodríguez M, Salinas-Zavala CA, Schwartzlos RA, Sierra-Beltrán AP (2007) The Gulf of California: review of ecosystem status and sustainability challenges. Progress in Oceanography 73: 1–26.
Lobin W, Florens FBV, Moura M, Jardim R, Gómes I, Kueffer C (2010) Conservation of oceanic island floras: Present and future global challenges. Perspectives in Plant Ecology, Evolution and Systematics 12: 107-129.
Maya Y, Arriaga L (1996) Litterfall and phenological patterns of the dominant overstorey species of a desert scrub community in north-western Mexico. Journal of Arid Environments 34: 23–35.
McAuliffe JR (1991) Demographic shifts and plant succession along a late Holocene Soil chronosequence in the Sonoran Desert of Baja California. Journal of Arid Environments 20: 165-178.
McAuliffe JR (1994) Landscape evolution, soil formation and ecological patterns and processes in Sonoran Desert Bajadas. Ecological Monographs 64: 11-148.
Peinado M, Delgadillo J, Aguirre JL (2005) Plant associations of El Vizcaino biosphere reserve, Baja California Sur, Mexico. The Southwestern Naturalist 50: 129-149.
Pielou EC (1975) Ecological Diversity. New York: Wiley Interscience. 165 pp.
Radhakrishnan K, Pandurangan AG, Rajasekharan S, Pushpangadan P. 1998. Ecofloristic studies of Lakshadweep Islands, India. Journal of Economic and Taxonomic Botany 22: 37-48.
Riley L, McGlaughlin ME (2016) Endemism in native floras of California's Channel Islands correlated with seasonal patterns of aeolian processes. Botany 94: 65-72.
Romero-Lopez BE, León de la Luz JL, De La Cruz-Agüero G, Pérez-Navarro JJ (2006) Estructura y composición de la vegetación de la barra costera El Mogote, Baja California Sur, México. Boletín de La Sociedad Botánica de México 79: 21–32.
Salm R, Clark R (1994) A Guide for Managing Marine Protected Area. I. U. C. N. Gland, Switzerland. 222 pp.
Strasberg D, Rouget M, Richardson DM, Baret S, Dupont J, Cowling RM (2005) An assessment of habitat diversity and transformation on la Réunion Island (mascarene islands, Indian ocean) as a basis for identifying broad-scale conservation priorities. Biodiversity and Conservation 14: 3015–3032.
Suzán H, Nabhan GP, Patten DT (1996) The importance of Olneya tesota as a nurse plant in the Sonoran Desert. Journal of Vegetation Science 7: 635–644.
Tershy BR, Breese D, Croll DA (1997) Human perturbations and conservation strategies for San Pedro Martir Island, Islas del Golfo de California Reserve, Mexico. Environmental Conservation 24: 261–270.
Velarde E, Wilder BT, Felger RS, Ezcurra E (2014) Floristic diversity and dynamics of Isla Rasa, gulf of California-A globally important seabird island. Botanical Sciences 92: 89–101.
Wiggins IL (1980) Flora of Baja California. Stanford University Press. 1706 p.
Wilder BT, Felger RS, Romero-Morales H (2008) Succulent plant diversity of the Sonoran islands, Gulf of California, Mexico. Haseltonia 14:127–160.
Zinck JA. 2016. The Geomorphic Landscape: Criteria for classifying geoforms. In: Zinck J.A., Metternicht G., Bocco G., Del Valle H.F. (eds) Geopedology. Springer, Cham. https://doi.org/10.1007/978-3-319-19159-1_6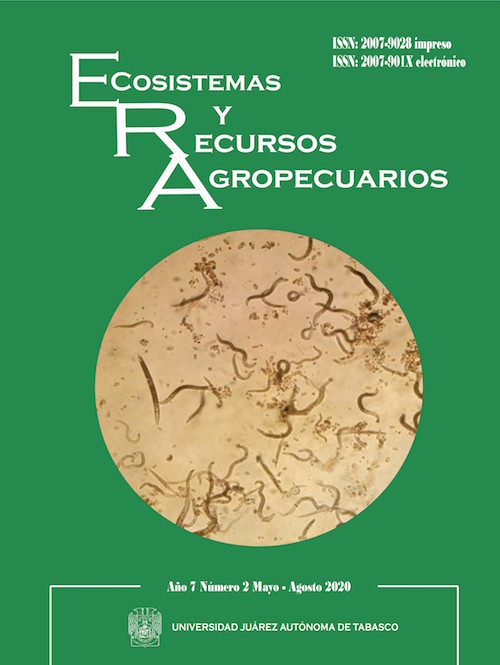 Descargas
Cómo citar
Ortiz-Ávila, V., Arnaud-Franco, G. A., Estrada-Castillón, E., Cavazos-Lozano, E. A., Romero, G., & Mellado, M. (2020). Vegetation on geomorphic surfaces in the Monserrat Island in the Gulf of California. Ecosistemas Y Recursos Agropecuarios, 7(2). https://doi.org/10.19136/era.a7n2.2334
Sección
ARTÍCULOS CIENTÍFICOS
Licencia
1. Política propuesta para revistas de acceso abierto
Los autores/as que publiquen en esta revista aceptan las siguientes condiciones: 
1. Los autores/as conservan los derechos de autor y ceden a la revista el derecho de la primera publicación, con el trabajo registrado con la  licencia internacional Creative Commons Reconocimiento-No comercial-Compartir igual 4.0 .de atribución de Creative Commons, que permite a terceros utilizar lo publicado siempre que mencionen la autoría del trabajo y a la primera publicación en esta revista.
2. Los autores/as pueden realizar otros acuerdos contractuales independientes y adicionales para la distribución no exclusiva de la versión del artículo publicado en esta revista (p. ej., incluirlo en un repositorio institucional o publicarlo en un libro) siempre que indiquen claramente que el trabajo se publicó por primera vez en esta revista.
3. Se permite y recomienda a los autores/as a publicar su trabajo en Internet (por ejemplo en páginas institucionales o personales) antes y durante el proceso de revisión y publicación, ya que puede conducir a intercambios productivos y a una mayor y más rápida difusión del trabajo publicado (vea The Effect of Open Access).

Este trabajo está sujeto a una licencia internacional Creative Commons Reconocimiento-No comercial-Compartir igual 4.0 .