ALTERNATIVAS AL FENOXAPROP-ETIL PARA EL CONTROL DEL ZACATE JOHNSON (Sorghum halepense) EN ARROZ DE RIEGO
Palabras clave:
bispiribac-sodio, herbicidas, rendimiento de grano, toxicidad, zacate perenne
Resumen
En enero de 2013 se estableció un experimento en el Campo Experimental Cotaxtla ubicado en el mu- nicipio de Medellín, Veracruz, con el objetivo de determinar la efectividad de diferentes tratamientos herbicidas en el control del zacate Johnson (Sorghum halepense (L.) Pers.), la selectividad al arroz y el efecto en el rendimiento de grano. Se sembró la variedad Milagro Filipino a densidad de 125 kg ha-1. Se evaluaron 10 tratamientos en un diseño experimental de bloques al azar con cuatro repeticiones. Los tratamientos fueron fenoxaprop-etil a 45 y 67.5 g ha-1, bispiribac-sodio a 22.4 y 30 g ha-1, cihalofop-butilo a 270 y 360 g ha-1, nicosulfurón a 40 y 60 g ha-1, propanil a 4 320 g ha-1 y un testigo sin aplicación. Al momento de la aplicación, la densidad de población de S. halepense era de 875 000 plantas ha-1. El control de S. halepense y la toxicidad al arroz se evaluó a los 15, 30, 45 y 60 d después de la aplicación (dda). A los 60 dda se tuvieron controles superiores a 95 % con las dos dosis de nicosulfurón y la más alta de bispiribac-sodio. El fenoxaprop-etil en sus dos dosis ocasionó ligera toxicidad al arroz, la cual desapareció entre los 15 y 30 dda con la dosis baja, y a los 30 y 45 dda con la dosis alta. Los mayores rendimientos de arroz se obtuvieron con las mayores dosis de bispiribac-sodio y nicosulfurón, los cuales oscilaron entre 4 509 y 4 630 kg ha-1.
Citas
Akkari KH, Talbert RE, Ferguson JA, Gilmour JT, Khodayari K (1986) Herbicides and seeding rate effects on sprinkler-irrigated rice. Agronomy Journal 78(5): 927-929.
Bakkali Y, Ruiz-Santaella JP, Osuna MD, Wagner J, Fischer AJ, De Prado R (2007) Late watergrass (Echinochloa phyllopogon): Mechanisms involved in the resistance to fenoxaprop-p-ethyl. Journal of Agricultural and Food Chemistry 55(10): 4052-4058.
Bozic D, Vrbnicanin S, Barac M, Stefanovic L (2007) Determination of Johnsongrass [Sorghum halepense (L.) Pers.] level of sensibilty to nicosulfuron. Maydica 52(2007): 271-275.
Burke IC, Thomas WE, Burton JD, Spears JF, Wilcut JW (2006) A seedling assay to screen aryloxyphenoxypropionic acid and cyclohexanedione resistance in johnsongrass (Sorghum halepense). Weed Technology 20(4): 950-955.
Carvalo FT de, Breda-Moretti T, Alves de Souza P (2010) Efeito do residual no solo de nicosulfuron isolado e em mistura com atrazine sobre culturas agrícolas subsequentes. Revista Brasileira de Herbicidas 9(1): 26-34.
Clavijo J (2010) Acción de los herbicidas en un arrozal: modo y mecanismo. In: Degiovanni-Beltramo V, Martínez-Racines CP, Motta-O F (eds) Producción eco-eficiente del arroz en América Latina. Publicación CIAT No. 365. Tomo I. CIAT. FLAR. UNICORDOBA. Cali, Colombia. pp. 431-446.
Damalas CA, Dhima KV, Eleftherohorinos IG (2008) Bispyribac-sodium efficacy on early watergrass (Echinochloa oryzoides) and late watergrass (Echinochloa phyllopogon) as affected by coapplication of selected rice herbicides and insecticides. Weed Technology 22(4): 622-627.
Esqueda-Esquivel VA (1998) Efecto de dosis y épocas de aplicación del herbicida fenoxaprop-etil en arroz (Oryza sativa L.) de temporal. In: ASOMECIMA (ed) Memoria XIX Congreso Nacional de la Ciencia de la Maleza. Mexicali, B. C., México. pp. 81-85.
Esqueda-Esquivel VA (2000a) Las malezas del cultivo del arroz (Oryza sativa L.) en México. Revista Mexicana de la Ciencia de la Maleza Núm. Especial: 63-81.
Esqueda-Esquivel VA (2000b) Toxicidad del herbicida nicosulfurón aplicado en cuatro etapas de desarrollo del arroz (Oryza sativa L.). Agronomía Mesoamericana 11(2): 109-113.
Esqueda-Esquivel VA, Tosquy-Valle OH (2009) Alternativas al propanil para controlar Echinochloa colona (L.) Link en arroz de temporal. Agronomía Mesoamericana 20(1): 111-119.
Esqueda-Esquivel VA, Tosquy-Valle OH (2012) Validación de bispiribac-sodio + clomazone, nueva alternativa de control químico de malezas en arroz de temporal. Revista Mexicana de Ciencias Agrícolas 3(6): 1115-1128.
Esqueda-Esquivel VA, Tosquy-Valle OH (2013) Control químico de Echinochloa colona (L.) Link resistente al propanil y Cyperus iria L. en arroz (Oryza sativa L.) de temporal en Tres Valles, Veracruz. Universidad y Ciencia 29(2): 113-121.
Esqueda-Esquivel VA, Tosquy-Valle OH (2014) Validación de cihalofop-butilo + clomazone para el control de malezas en arroz de temporal. Revista Mexicana de Ciencias Agrícolas 5(5): 741-751.
Esqueda-Esquivel VA, Tosquy-Valle OH, Flores-Morales DS (2010) Control de malezas en el cultivo de arroz de temporal en Veracruz. Folleto Técnico Núm. 53. INIFAP. CIR Golfo Centro. Campo Experimental Cotaxtla. Medellín de Bravo, Ver., México. 41 p.
Fischer AJ, Bayer DE, Carriere MD, Ateh CM, Yim K (2000) Mechanisms of resistance to bispyribac-sodium in an Echinochloa phyllopogon accession. Pesticide Biochemistry and Physiology 68(3): 156-165.
Fontana LC, Agostinetto D, Pinto JJO, Rigoli RP, Figueredo SS, Rosenthal MD (2007a) Tolerância de cultivares de arroz irrigado (Oryza sativa) ao herbicida nicosulfuron e à mistura formulada de imazethapyr + imazapic. Planta Daninha 25(4): 791-798.
Fontana LC, Agostinetto D, Pinto JJO, Rosenthal MD, Rigoli RP, Figueredo SS (2007b) Controle de arroz-vermelho (Oryza sp.) com o herbicida nicosulfuron ou a mistura formulada de imazethapyr + imazapic. Planta Daninha 25(4): 783-790.
García E (1987) Modificaciones al Sistema de Clasificación Climática de Köppen (para Adaptarlo a las Condiciones de la República Mexicana). 4a ed. Universidad Nacional Autónoma de México. México, D. F. 130 p.
Gomez KA, Gomez AA (1984) Statistical Procedures for Agricultural Research. 2nd. ed. J. Wiley & Sons. New York, USA. 680 p.
Griffin JL, Baker JB (1990) Tolerance of rice (Oryza sativa) cultivars to fenoxaprop, sethoxydim, and haloxyfop. Weed Science 38(6): 528-531.
Heap I (2014) The international survey of herbicide resistant weeds. Weeds resistant to ALS inhibitors (B/2) by species and country http://www.weedscience.org/Summary/MOA.aspx?MOAID=3 . Fecha de consulta 26 de mayo de 2014.
Hernández-Chavez M, Herrera-Murillo F (2005) Respuesta de los pastos Panicum maximum, Brachiaria brizantha y B. decumbens a herbicidas posemergentes con acción graminicida. Revista de Agricultura Tropical 35(1): 15-25.
Hernández-Labrador MM, Mejía-Arreaza J, Lazo-Ariza JV (2000) Evaluación de nicosulfuron (4% SC) en el control de malezas en maíz (Zea mays L.). Revista de la Facultad de Agronomía 26(1): 1-13.
Hoagland RE, Norsworthy JK, Carey F, Talbert RE (2004) Metabolically based resistance to the herbicide propanil in Echinochloa species. Weed Science 52(3): 475-486.
Jha P, Norsworthy JK, Scott RC (2010) Cyhalofop application timing and adjuvant selection for Echinochloa crus-galli control in rice. Crop Protection 29(8): 820-823.
Kaloumenos NS, Eleftherohorinos IG (2009) Identification of a Johnsongrass (Sorghum halepense) biotype resistant to ACCase-inhibiting herbicides in Northern Greece. Weed Technology 23(3): 470-476.
Kim D-S, Caseley JC, Brain P, Riches CR, Valverde EB (2000) Rapid detection of propanil and fenoxaprop resistance in Echinochloa colona. Weed Science 48(6): 695-700.
Kim JS, Oh JI, Kim TJ, Jong YP, Kwang YC (2005) Physiological basis of differential phytotoxic activity between fenoxaprop-P-ethyl and cyhalofop-butyl-treated barnyardgrass. Weed Biology and Management 5(2): 39-45.
Leah JM, Caseley JC, Riches CR, Valverde-Elías B (1995) Age-related mechanisms of propanil tolerance in jun¬gle-rice, Echinochloa colona. Pesticide Science 43(4): 347-354.
Liu Y, Zhang C, Wei S, Cui H, Huang H (2011) Compounds from the subterranean part of Johnsongrass and their allelopathic potential. Weed Biology and Management 11(3): 160-166.
Mallory-Smith CA, Retzinger EJ Jr (2003) Revised classification of herbicides by site of action for weed resistance management strategies. Weed Technology 17(3): 605-619.
Ntanos DA, Koutroubas SD, Mavrotas C (2000) Barnyardgrass (Echinochloa crus-galli) control in water-seeded rice (Oryza sativa) with cyhalofop butyl. Weed Technology 14(2): 383-388.
Olivares-Sáenz E (1994) Paquete estadístico de diseños experi¬mentales (programa de cómputo) versión 2.5. Facultad de Agronomía de la Universidad Autónoma de Nuevo León. Marín, N. L., México.
PLM. 2011. Diccionario de Especialidades Agroquímicas. 21 ed. PLM de México S. A. de C. V. México, D. F. 1521 p.
Pornprom T, Mahatamnuchoke P, Usui K (2006) The role of altered acetyl-CoA carboxylase in conferring resistance to fenoxaprop-P-ethyl in Chinese sprangletop (Leptochloa chinensis (L.) Nees). Pest Management Science 62(11): 1109-1115.
Quintana Y, Ortiz A, Pérez P, Fischer A (2013) Control químico de dos accesiones de Sorghum halepense L. Pers., resistentes a nicosulfuron y foramsulfuron+iodosulfuron. In: Bojórquez-Bojórquez GA, Esqueda-Esquivel VA, Balbuena-Melgarejo A, Rosales-Robles E, Sánchez-Nava S, Santillanes-Navidad R, Zita-Padilla GA (coords) Manejo y control de malezas en Latinoamérica. Asociación Latinoamericana de Malezas. ASOMECIMA A.C. Universidad Autónoma de Sinaloa. Universidad Autónoma del Estado de México. Culiacán, Sin., México. pp. 926-932.
Stefanović L, Simić M, Pajić Z (2005) Effects of nicosulfuron application timing on weeds and sweet maize crop. Acta Herbologica 14(1): 23-32.
Vallejos E, Soto A (1995) Influencia del estado de desarrollo del arroz sobre su tolerancia al fenoxaprop-etilo y sobre la interferencia de la maleza Ischaemun rugosum. Agronomía Costarricense 19(2): 67-73.
Valverde-Elías B (2007) Status and management of grass-weed herbicide resistance in Latin America. Weed Technology 21(2): 310-323.
Valverde-Elías B, Riches CR, Caseley JC (2000) Prevención y Manejo de Malezas Resistentes a Herbicidas en Arroz: Experiencias en América Central con Echinochloa colona. Cámara de Insumos Agropecuarios. San José, Costa Rica. 135 p.
Vasilakoglou I, Dhima K, Eleftherohorinos I (2005) Allelopathic potential of Bermudagrass and Johnsongrass and their interference with cotton and corn. Agronomy Journal 97(1): 303-313.
Volenberg DS, Stoltenberg DE (2002) Giant foxtail (Setaria faberi) outcrossing and inheritance of resistance to acetylcoenzyme A carboxylase inhibitors. Weed Science 50(5): 622-627.
Webster EP, Masson JA (2001) Acetolactate synthase-inhibiting herbicides on imidazolinone-tolerant rice. Weed Science 49(5): 652-657.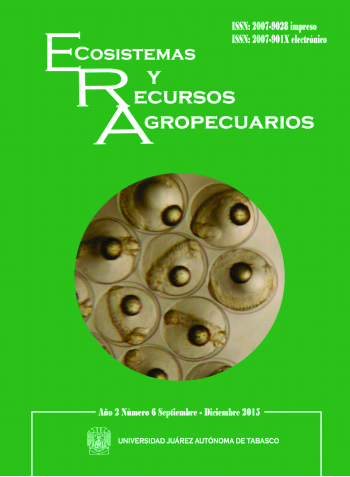 Descargas
Cómo citar
Esqueda Esquivel, V. A., Uresti Durán, D., & Hernández Aragón, L. (2015). ALTERNATIVAS AL FENOXAPROP-ETIL PARA EL CONTROL DEL ZACATE JOHNSON (Sorghum halepense) EN ARROZ DE RIEGO. Ecosistemas Y Recursos Agropecuarios, 2(6), 317-325. https://doi.org/10.19136/era.a2n6.294
Sección
ARTÍCULOS CIENTIFICOS
Licencia
1. Política propuesta para revistas de acceso abierto
Los autores/as que publiquen en esta revista aceptan las siguientes condiciones: 
1. Los autores/as conservan los derechos de autor y ceden a la revista el derecho de la primera publicación, con el trabajo registrado con la licencia de atribución de Creative Commons, que permite a terceros utilizar lo publicado siempre que mencionen la autoría del trabajo y a la primera publicación en esta revista.
2. Los autores/as pueden realizar otros acuerdos contractuales independientes y adicionales para la distribución no exclusiva de la versión del artículo publicado en esta revista (p. ej., incluirlo en un repositorio institucional o publicarlo en un libro) siempre que indiquen claramente que el trabajo se publicó por primera vez en esta revista.
3. Se permite y recomienda a los autores/as a publicar su trabajo en Internet (por ejemplo en páginas institucionales o personales) antes y durante el proceso de revisión y publicación, ya que puede conducir a intercambios productivos y a una mayor y más rápida difusión del trabajo publicado (vea The Effect of Open Access).
This work is licensed under a
Creative Commons Attribution-NonCommercial-NoDerivatives 4.0 International License
.