APROVECHAMIENTO DE METABOLITOS NITROGENADOS DEL CULTIVO DE TILAPIA EN UN SISTEMA ACUAPÓNICO
Palabras clave:
Acuacultura, acuaponia, forraje de maíz, sistemas integrados, sustentabilidad
Resumen
En un ciclo de producción de tilapia, se realizó el cultivo de hongos setas, forrajes verdes y cucurbitáceas en un sistema acuapónico, con el objetivo de evaluar la eficiencia en la remoción y aprovechamiento de desechos nitro- genados. Para el estudio se usó un sistema de recirculación de tres tinas circulares de 7 m3, en las que se sembraron 64 tilapias por m3. En la primera fase, se mantuvieron tres ciclos de cultivo de setas de 20 d, en dos sistemas: acuaponía y riego tradicional. Posteriormente, se realizaron seis ciclos de 12 d de crecimiento de cuatro forrajes verdes: maíz amarillo y blanco, trigo y sorgo, para luego realizar un ciclo de 45 d de pepino y sandía en bicultivo. La producción acumulada total de setas en el tratamiento de acuaponía durante los tres ciclos fue 16 % superior al obtenido con riego tradicional. La mayor producción de forraje en biomasa total fresca se obtuvo el trigo (47.55 kg); la mayor longitud de tallos (27 ± 2.20 cm) y eficiencia de remoción de metabolitos nitrogenados en el maíz blanco. Las plantas de pepino y sandía produjeron frutos al segundo mes de cultivo, con rendimiento de 27.15 y 4.84 kg, respectivamente, las cuales fueron más eficientes en aprovechar los metabolitos que las setas y los forrajes. En el ciclo de producción producción de tilapia se puede cultivar diferentes vegetales y aprovechar los metabolitos nitrogenados con acuaponía.
Citas
Álvarez-Rodríguez A, Campo-Costa A, Batista-Ricardo E, Morales-Miranda A (2010) It influences of the Humus for subway Foliating in vegetable development of the cultivation of the Cucumber (Cucumis sativus L) in the UBPC The Garden, municipality Holguín Cuba. Ciencias Holguín 16(2):1-10.
A.O.A.C. (1990) Official Methods of Analysis of the Association of Official Analytical Chemists, 15th edition A.O.A.C. Arlington, VA, 1141 p.
Andriolo J (1999) Physiology protected crops. Santa María, Brasil. Editorial UFSM. 142p.
Barki A, Gur N, Karplus I (2001) Management of interspecific food competition in fish-crayfish communal culture: the effects of the spatial and temporal separation of feed. Aquaculture 201:343-354.
Ciappini MC, Gatti B, López-Zamora ML (2004) Pleurotus ostreatus, a Menu Option. Research on mushrooms in the daily diet. Universidad del Centro Educativo Latinoamericano Rosario, Argentina. Invenio 7(12): 127-132.
El-Sayed MAF (2006) Tilapia culture. CABI Publishing. Oceanography Department, Faculty of Science, Alexandria University. Alexandria. Egypt. pp. 139-145.
Endut A, Jusoh A, Ali N, Wan Nik WB, Hassan A (2010) A study on the optimal hydraulic loading rate and plant ratios in recirculation aquaponic system. Bioresource Technol. 101: 1511-1517.
Espinoza F, Argeti P, Urdaneta G, Arenque C, Fuentes A, Palma J, Bello C (2004) Use of hydroponics forage corn in the feeding of 5/8 Holstein x Brahman bovine. Venezuela. Rev. Zootec. Trop. 22(4): 303-315.
Gaitán-Hernández R, Salmones D (2008) Obtaining and characterizing Pleurotus ostreatus strains for commercial cultivation under warm environmental conditions. Scientia Horticulturae 118 (
García-Ulloa M, León C, Hernández F, Chávez R (2005) Evaluation of an experimental aquaponic system. Rev. Avance Invest. Agropecuaria 9: 43-47.
Garzón-Gómez JP, Cuervo-Andrade JL (2008) Production of Pleurotus ostreatus on solid lignocellulosic wastes from different source. Nova Publ. Cient 6(10): 126-140.
Greenwood DJ (1981) Crop response to agronomic practice. In Rose, D.A. and Charles-Eduards, D.A. (Eds.). Mathematics and plant physiology. Academic Press. London, pp 195-210.
López-Aguilar R, Murillo-Amador B, Rodríguez-Quezada G (2009) Hydroponic green fodder (HGF): An alternative for cattle food production in arid zones. Interciencia 34(2): 121-126.
Müller L, Manfron P, Santos O, Medeiros S, Haut V, Dourado D, Binotto E, Banderia A (2005) Growth and bromatologic composition of hydroponic corn fodder in different dates of harvest and sowing densities. Brasil. Zootec. Trop., 23(2): 105-109.
Rakocy JE, Masser MP, Losordo TM (2006) Recirculating Aquaculture tank production systems: Aquaponics-Integrating fish and plant culture. Southern Regional Aquaculture Center. SRAC. Publ. (454). 16 p.
Rakocy J, Bailey DS, Shultz RC, Thoman ES (2004) Update on tilapia and vegetable production in the UVI Aquaponic System. 6th International Simposium on Tilapia in Aquaculture Philippine International Center Roxas Boulevard, Manila, Philippines, September 12-16, 2004. Pp 676-690.
Rivera A, Moronta M, González-Estopiñan M, González D, Perdomo D, García DE, Hernández G (2010) Hydroponic forage production of corn (Zea mays L.) under natural conditions of light deficiency. Rev. Zootec. Trop. 28(1): 33-41.
Romero O, Huerta M, Damián MA, Macías A, Tapia AM, Parraguirre JFC, Juárez J (2010) Evaluation of the productive capacity of Pleurotus ostreatus using dehydrated banana leaves (Musa paradisiaca L., CV. Roatan), in contrast to other agricultural wastes. Agronomía Costarricense 34(1): 53-63.
Siddiqui & Al-Harbi (1995) Evaluation of three species of tilapia, red tilapia and a hybrid tilapia as culture species in Saudi Arabia. Aquaculture 138:145-157.
Soto-Zarazúa MG, Herrera-Ruiz G, Rico-García E, Toledano-Ayala M, Peniche-Vera R, Ocampo-Velázquez R, Guevara-González RG (2010) Development of efficient recirculation system for tilapia (Oreochromis niloticus) culture using low cost materials. African J. Biotechnol., 9(32): 5203-5211.
Snow AM, Ghaly AE, Snow A (2008) A comparative assessment of hydroponically grown cereal crops for the purification of aquaculture wastewater and the production of fish feed. Am. J. Agric. Biol. Sci., 3(1): 368-378.
Taiz L, Zeiger E (2006) Nutrition mineral. Chapter 5. Plant Physiology. Fourth Edition. Sinauer Associates. pp: 67-86.
Vargas-Rodríguez CF (2008) Comparison of production yields of green hydroponic fodder of corn, rice and sorghum. Universidad de Costa Rica. Agronómico Mesoamericana 19(2): 233 – 240.
Van Gorder S (1991) Optimizing production by continous loading of recirculating systems. In: Workshop on Design of High Density Recirculating Systems. Baton Rouge, LA, USA. pp: 17-26.
Yousef S, Al-Hafedh, Aftab Alam, Alfaque Alam M (2003) Performance of plastic biofilter media with different configuration in a water recirculation system for the culture of Nile tilapia (Oreochromis niloticus). Aquacult. Eng. 29: 139-154.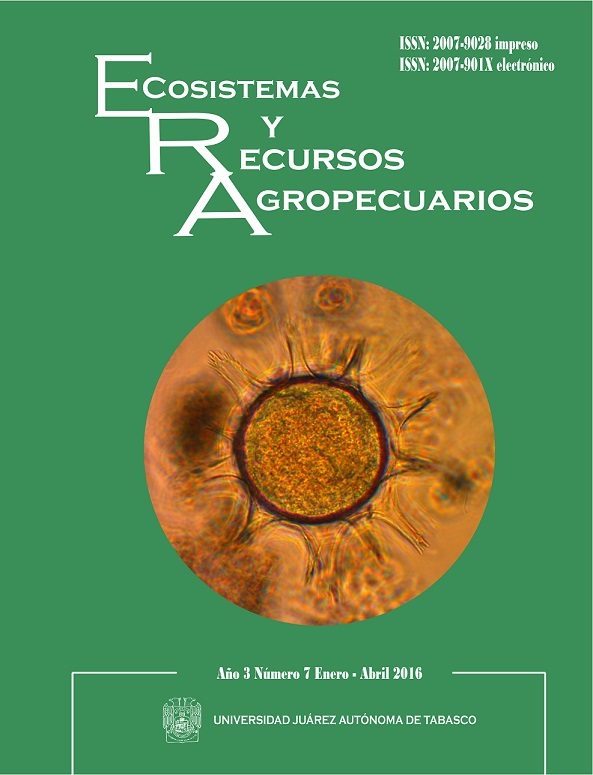 Cómo citar
CERVANTES-SANTIAGO, A., Hernández Vergara, M. P., & Pérez Rostro, C. I. (2015). APROVECHAMIENTO DE METABOLITOS NITROGENADOS DEL CULTIVO DE TILAPIA EN UN SISTEMA ACUAPÓNICO. Ecosistemas Y Recursos Agropecuarios, 3(7), 63-73. https://doi.org/10.19136/era.a3n7.667
Sección
ARTÍCULOS CIENTIFICOS
Licencia
1. Política propuesta para revistas de acceso abierto
Los autores/as que publiquen en esta revista aceptan las siguientes condiciones: 
1. Los autores/as conservan los derechos de autor y ceden a la revista el derecho de la primera publicación, con el trabajo registrado con la licencia de atribución de Creative Commons, que permite a terceros utilizar lo publicado siempre que mencionen la autoría del trabajo y a la primera publicación en esta revista.
2. Los autores/as pueden realizar otros acuerdos contractuales independientes y adicionales para la distribución no exclusiva de la versión del artículo publicado en esta revista (p. ej., incluirlo en un repositorio institucional o publicarlo en un libro) siempre que indiquen claramente que el trabajo se publicó por primera vez en esta revista.
3. Se permite y recomienda a los autores/as a publicar su trabajo en Internet (por ejemplo en páginas institucionales o personales) antes y durante el proceso de revisión y publicación, ya que puede conducir a intercambios productivos y a una mayor y más rápida difusión del trabajo publicado (vea The Effect of Open Access).
This work is licensed under a
Creative Commons Attribution-NonCommercial-NoDerivatives 4.0 International License
.