Nutritive value of Mulato grass under di erent grazing strategies
Palabras clave:
Brachiaria hibrido, calidad nutritiva, componentes morfológicos, materia seca
Resumen
The objective of this study was to evaluate the e ect of grazing frequencies and intensities on herbage accumulation and nutritive value of Brachiaria hybrid 36061 cv. Mulato. Grazing frequencies of 14, 21 and 28 d and intensities of 9 to 11 and 13 to 15 cm were studied under a randomized block design in a 3x2 factorial arrangement with three replicates. Herbage accumulation, morphological components, in situ digestibility (DIGDM), crude protein (CP), neutral detergent ber (NDF) and acid detergent ber (ADF) were evaluated. Annual yield distribution was 55, 28 and 16 % during the rainy, northern cold-front and dry seasons, in the rst cycle, with the highest annual accumulation of 12 310 kg DM ha−1 obtained by grazing every 28 d. The highest DIGDM and PC were obtained by grazing at an intensity of 9 to 11 cm every 14 d in all seasons. However, grazing at an intensity of 13 to 15 cm every 28 d resulted in greater forage yield with a high concentration of NDF and ADF. In conclusion, the greatest herbage accumulation, NDF and ADF were recorded by grazing of 13 to 15 cm in height every 28 d in both cycles. DIGDM and CP had high values by grazing of 9 to 11 cm every 14 d.
Citas
AOAC (1990) Official Methods of Analysis. 15th ed. Washington, D.C. USA.
Argel JP, Miles WJ, Guiot JD, Lascano EC (2005) Cultivar Mulato (Brachiaria híbrido CIAT 36061). Grasses of high forage production and quality for the tropical. In Spanish with English abstract. CIAT. Cali Colombia.
Barbosa RA, Júnior ND, Euclides BV, Da silva SC, Zimmer AH, Júnior RA (2007) Capim-tanzania submetido a combinações entre intensidade e freqüência de pastejo. Pesquisa Agropecuaria Brasil 42: 329-340.
Cândido DM, Silva GR, Neiva MJ, Facó O, Benevides IY, Farias FS (2006) Fluxo de biomassa em capim-tanzânia pastejado por ovinos sob três períodos de descanso. Revista Brasileira de Zootecnia 35: 2234-2242.
Clavero T, Razz R (2009) Valor nutritivo del pasto maralfalfa (Pennisetum purpureum x Pennisetum glaucum) en condiciones de defoliación. Revista de la Facultad de Agronomía 26: 78-87.
Difante GS, Júnior DN, Da Silva SC, Euclides VPB, Montagner DB, Silveira MCT, Pena KD (2011) Características morfogênicas e estruturais do capim-marandu submetido a combinações de alturas e intervalos de corte. Revista Brasileira de Zootecnia 40 (5): 955-963.
Durand JL, Schaufele R, Gastal F (1999) Grass leaf elongation rate as a function of developmental stage and temperature: morphological analysis and modelling. Annals of Botany 83: 577-588.
Euclides VP, Macedo MC, Do valle CB, Barbosa RA, Gonçalves WV (2008) Produção de forragem e características da estrutura do dosel de cultivares de Brachiaria brizantha sob pastejo. Pesquisa Agropecuaria Brasil 43: 1805-1812.
Festo JM, Sabed NA, Jeremy AR (2003) The impact of temperature on leaf appearance in bamba groundnut landraces. Journal Crop Science 43:1375-1379.
Flores SR, Euclides VP, Abrão MP, Galbeiro S, Difante DG, Barbosa AR (2008) Desempenho animal, produção de forragem e características estruturais dos capins marandu e xaraés submetidos a intensidades de pastejo. Revista Brasileira de Zootecnia 37:1355-1365.
García E (1988) Modificaciones al sistema de clasificación climática de Koppen. 4ª ed. Edit. Limusa. México. 217 p.
Guenni O, GIL JL, Guedez Y (2005) Growth, forage yield and light interception and use by stands of five Brachiaria species in a tropical environment. Tropical Grassland 39: 42-53.
Hernández GA, Martínez HP, Mena UM, Pérez PJ, Enriquez QJ (2002) Dinámica del rebrote en pasto insurgente (Brachiaria brizantha Hochst. stapf.) pastoreado a diferente asignación en la estación de lluvia. Técnica Pecuaria México 40:193-205.
Hodgson J (1990) Grazing management. Science into practice. Edit. Harlow, England: Longman Scientific & Technical. 203 pp.
Inyang U, Vendramini MB, Sollenberger BL, Adesogan LA, Lupha A (2010). Forage species and stocking rate effects on animal performance and herbage responses of 'Mulato' and Bahiagrass pasture. Journal Crop Science 50:1079-1085.
Lara SMA, Pedreira PCG (2011) Respostas morfogênicas e estruturais de dosséis de espécies de Braquiária à intensidade de desfolhação. Pesquisa Agropecuária Brasileira 46(7):760-767.
Mattos SJ, Gomide JA, Martínez CA (2005) Crescimento de espécies de Brachiaria sob déficit hídrico e alagamento a campo. Revista Brasileira de Zootecnia 34:755-764.
Marcelino KR, Junior DN, Da Silva SC, Euclides VP, Da Fonseca DM (2006) Características morfogênicas e estruturais e produção de forragem do capim-marandu submetido a intensidades e freqüências de desfolhação. Revista Brasileira de Zootecnia 35: 2243-2252.
Nantes NN, Euclides VPB, Montagner DB, Lempp B, Barbosa RA, Gois PO (2013) Desempenho animal e características de pastos de capim‐piatã submetidos a diferentes intensidades de pastejo. Pesquisa Agropecuária Brasileira 48 (1):114-121.
Orskov ER, Hovell FD, Mould F (1980) The use of nylon bag technique for the evaluation of feedstuff. Tropical Animal Production 5:195-213.
Palma LD, Cisneros DJ (1996) Plan de uso sustentable de los suelos de Tabasco. Fundación Produce Tabasco, A.C. Villahermosa, Tabasco. 116 p.
Ribeiro GK, Pereira OG, Valadares Filho SC, et al. (2001) Caracterização das frações que constituem as proteínas e os carboidratos, e respectivas taxas de digestão, do feno de capim-Tifton 85 de diferentes idades de rebrota. Revista Brasileira de Zootecnia 30 (2) 589-595.
Rodríguez AL, Sampaio IB, Carneiro JC (2004) Degradabilidade in situ da matéria seca de forrageiras tropicais obtidas em diferentes épocas de corte. Brasileira Medicina Veterinaria Zootecnia 56: 658-664.
Santana PAA, Antonio Pérez LA, Figueredo AME (2010) Efectos del estado de madurez en el valor nutritivo y momento óptimo de corte del forraje Napier (Pennisetum purpureum Schum.) en época lluviosa. Revista Mexicana Ciencias Pecuarias 1(3):277-286.
SAS (2001) Statistical Analysis Systems user's guide (9th). SAS Institute Inc. Raleigh, North Carolina, USA.
Steel RG, Torrie JH (1988) Bioestadística. Principios y Procedimientos. 2da, edit, McGraw Hill. México. 622 p.
Van Soest PJ, Robertson JB, Lewis BA (1991) Methods for dietary fiber, neutral detergent fiber, and nonstarch polysacharides in relation to animal nutrition. Journal Dairy Science 74:3583-3597.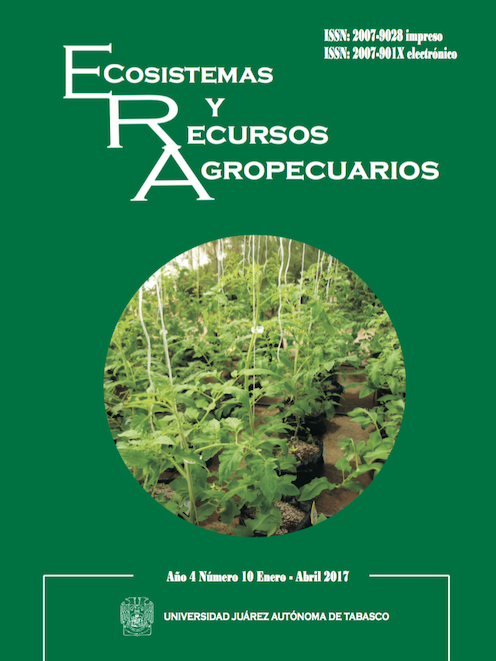 Cómo citar
Cruz-Hernández, A., Hernández-Garay, A., Aranda-Ibáñez, E. M., Chay-Canul, A. J., Márquez-Quiroz, C., Rojas-García, A. R., & Gomez-Vázquez, A. (2016). Nutritive value of Mulato grass under di erent grazing strategies. Ecosistemas Y Recursos Agropecuarios, 4(10), 65-72. https://doi.org/10.19136/era.a4n10.883
Sección
ARTÍCULOS CIENTIFICOS
Licencia
1. Política propuesta para revistas de acceso abierto
Los autores/as que publiquen en esta revista aceptan las siguientes condiciones: 
1. Los autores/as conservan los derechos de autor y ceden a la revista el derecho de la primera publicación, con el trabajo registrado con la licencia de atribución de Creative Commons, que permite a terceros utilizar lo publicado siempre que mencionen la autoría del trabajo y a la primera publicación en esta revista.
2. Los autores/as pueden realizar otros acuerdos contractuales independientes y adicionales para la distribución no exclusiva de la versión del artículo publicado en esta revista (p. ej., incluirlo en un repositorio institucional o publicarlo en un libro) siempre que indiquen claramente que el trabajo se publicó por primera vez en esta revista.
3. Se permite y recomienda a los autores/as a publicar su trabajo en Internet (por ejemplo en páginas institucionales o personales) antes y durante el proceso de revisión y publicación, ya que puede conducir a intercambios productivos y a una mayor y más rápida difusión del trabajo publicado (vea The Effect of Open Access).
This work is licensed under a
Creative Commons Attribution-NonCommercial-NoDerivatives 4.0 International License
.