Efecto del ácido linoleico conjugado sobre la calidad ovocitaria en ratones hembra de la cepa cd-1
Palabras clave:
Ácidos grasos poliinsaturados, concentración de lípidos, calidad ovocitaria, ácido linoleico conjugado.
Resumen
El objetivo del presente estudio fue evaluar el efecto del ácido linoleico conjugado sobre la calidad y acumulación de lípidos en ovocitos de ratonas de la cepa CD-1, las hembras se distribuyeron en dos grupos: control (TCON: n: 5) y ácido linoleico conjugado (TCLA: n: 5), se alimentaron durante 21 días. 53 h post tratamiento fueron sacrificadas para la recuperación de los ovocitos, los cuales fueron teñidos con rojo de Nilo y observados bajo fluorescencia. El grupo TCLA presentó un 25% más de ovocitos recuperados en comparación a TCON, con un 63% de ovocitos de excelente y buena calidad (p ≤ 0.05), la concentración de lípidos en el grupo TCLA fue menor (145.8 ± 17.8) en comparación con TCON (246 ± 13.1) (p < 0.05). 
Descargas
Los datos de descargas todavía no están disponibles.
Citas
Aardema H, (2014) Impact of free fatty acid composition on oocyte developmental competence in dairy cows. Faculty of Veterinary Medicine 94: 618-637.
Aardema H, Lolicato F, Van de Lest CH, Brouwers JF, Vaandrager AB, Van Tol HT, et al. (2013) Bovine cumulus cells protect maturing oocytes from increased fatty acid levels by massive intracellular lipid storage. Biology of Reproduction 6: 1–15.
Al Darwich A; Perreau CP; Petit MH; Papillier P; Dupont J; Guillaume D; et al. (2010). Effectof PUFA on embryo cryoresistance, gene expression and AMPKα phosphorylation in IVF derived bovine embryos. Prostaglandins & Other Lipid Mediators 93:30-36.
Ashwell MS, Ceddia RP, House RL, Cassady JP, Eisen EJ, Eling TE. et al. (2010). "Trans-10, cis12-conjugated linoleic acid alters hepatic gene expression in a polygenic obese line of mice displaying hepatic lipidosis," The Journal of Nutritional Biochemistry. 21: 848–855.
Batista RI, Raposo NR, Campos-Junior PH, Pereira MM, Camargo LS, Carvalho BC, et al. (2014) Trans-10, cis-12 conjugated linoleic acid reduces neutral lipid content and may affect cryotolerance of in vitro-produced crossbred bovine embryos. Journal of Animal Science and Biotechnology. 5: 3-8.
Borges DE and Vireque AA. (2019). Updating the Impact of Lipid Metabolism Modulation and Lipidomic Profiling on Oocyte Cryopreservation. European Medical Journal. 4: 79-87.
Bradley J and Swann K (2019). Mitochondria and lipid metabolism in mammalian oocytes and early embryos. The International Journal of Developmental Biology. 63: 93-103
Chung S, Brown JM, Sandberg MB, McIntosh M. (2005) Trans-10, cis-12 CLA increases adipocyte lipolysis and alters lipid droplet-associated proteins: role of mTOR and ERK signaling," The Journal of Lipid Research. 46: 885– 895.
Dunning KR, Russell DL, Robker, RL. (2014). Lipids and oocyte developmental competence: the role of fatty acids and b-oxidation. Reproduction 148. doi:10.1530/REP-13-0251
Jenkins TC, Wallace RJ, Moate PJ, Mosley EE. (2008) Recent advances in biohydrogenation of unsaturated fatty acids within the rumen microbial ecosystem. Animal Science 86: 399-412.
Jin JX, Lee S, Taweechaipaisankul A, Kim GA, Lee BC. (2017). Melatonin regulates lipid metabolism in porcine oocytes. Journal of Pineal Research. 62. doi:10.1111/JPI.12388.
Jungheim ES, Macones GA, Odem RR, Patterson BW, Lanzendorf SE, Ratts VS, et al. (2011) Associations between free fatty acids, cumulus oocyte complex morphology and ovarian function during in vitro fertilization. Fertility and Sterility 95: 1970-1974.
Kim JY, Kinoshita M, Ohnishi M, Fukui Y. (2001) Lipid and fatty acid analysis of fresh and frozen-thawed 1µ Mature and in vitro matured bovine oocytes. Reproduction Fertility 122: 131-138.
Lapa M, Marquez CC, Alves SP, Vasques MI, Baptista MC, Carvalhais I, et al. (2011) Effect of trans-10 cis-12 conjugated linoleic acid on Bovine Oocyte Competence and Fatty Acid Composition. Reproduction in domestic animals 46: 906-910.
Leão BC, Rocha-Frigoni NA, Cabral EC, Coelho M B, Ferreira C R, Eberlin M N. (2015) Improved embryonic cryosurvival observed after in vitro supplementation with conjugated linoleic acid is related to changes in the membrane lipid profile. Theriogenology. 84: 127-136.
Leão BCS, Rocha-Frigoni NAS, Cabral EC, Franco MF, Ferreira CR, Eberlin MN, et al (2014) Membrane lipid profile monitored by mass spectrometry detected differences between fresh and vitrified in vitro-produced bovine embryos. Zygote 1–10. doi.org/10.1017/S0967199414000380.
Leão BCS, Rocha-Frigoni NAS, Nogueira É, Cabral EC, Ferreira C R, Marcos N, et al. (2017) Membrane lipid profile of in vitro-produced embryos is affected by vitrification but not by long-term dietary supplementation of polyunsaturated fatty acids for oocyte donor beef heifers. Reproduction Fertility and Development. 29:1217-1230.
Leroy MR, Hoeck VV, Clemente M, Rizos D, Gutierrez AA, Soom VA, et al. (2010) The effect of nutritionally induced hyperlipidaemia on in vitro bovine embryo quality. Human Reproduction 25(3): 768-778.
Marei W, Wathe D, Fouladi-Nashta A. (2010) Impact of linoleic acid on bovine oocyte maturation and embryo development. Reproduction fertility 139: 979-988.
Matos JE, Marques CC, Moura TF, Baptista CM, Horta EMA, Soveral G, et al. (2015) Conjugated linoleic acid improves oocyte cryosurvival through modulation of the cryoprotectants influx rate. Reproductive Biology and Endocrinology. doi:10.1186/s12958-015-0059-3.
McEvoy TG, Onal AG, Speake BK, Robinson JJ. (2012). Impact of contrasting fish oil concentrations in the diet on ovine embryo development in vivo and of corresponding diet-specific derivative sera during in vitro culture. Journal of Animal and Feed Sciences 21: 31-48.
Meza-Villalvazo, VM, Magaña SH, Sandoval CC, Morales MR, Chay-Canul A, Trejo CA. (2013). Efecto de los ácidos grasos poliinsaturados sobre población folicular y calidad ovocitaria en ovejas Pelibuey. Universidad y Ciencia. 29: 255-261.
Meza-Villalvazo, VM, Trejo CA, Magaña SH, Sandoval CC, Chay-Canul A, Cavazos GA. et al. (2014). Perfil metabólico de isómeros de Ácido Linoleico Conjugado y calidad de ovocitos en ovejas de pelo. Nova Scientia, 12 (2): 287-303.
Paczkowski M, Silva E, Schoolcraft W, Krisher R. (2013) Comparative Importance of Fatty Acid Beta-Oxidation to Nuclear Maturation, Gene Expression, and Glucose Metabolism in Mouse, Bovine, and Porcine Cumulus Oocyte Complexes. Biology of Reproduction 88: 1–11.
Park SE; Son W Y; Lee KA; Ko JJ, Cha KY. (1997). Chromosome and spindle configurations of human oocytes matured in vitro after cryopreservation at the germinal vesicle stage. Fertility and Sterility 68: 920-926.
Patricio P, Tucker MJ, Guelman V. (2003) Atlas de reproducción asistida. Editorial McGraw Hill, México.
Pena CB, de Queirós CF, Detoni D, Borges FR, Burla DAJ. (2019). Use of conjugated linoleic acid (trans 10, cis 12) to cultivate bovine embryos: effect on cryoresistance and lipid content. Revista Brasileira de Zootecnia. 48:e20180322. doi.org/10.1590/rbz4820180322.
Pereira RM, Baptista MC, Vasques MI, Horta AE, Portuga PV, Bessa RJ, et al. (2007) Cryosurvival of bovine blastocysts is enhanced by culture with trans-10 cis-12 conjugated linoleic acid (t10, c12 CLA). Animal Reproduction Science 98: 293– 301.
Prates EG, Alves SP, Marques CC, Baptista MC, Horta AEM, Bessa RJB. et al. (2013) Fatty acid composition of porcine cumulus oocyte complexes (COC) during maturation: effect of the lipid modulatorstrans-10,cis-12 conjugated linoleic acid (t10, c12 CLA) and forskolin, In Vitro Cellular & Developmental Biology-Animal. 49: 335–345.
Prates EG, Nunes J, Pereira R. (2014) A Role of Lipid Metabolism during Cumulus Oocyte Complex Maturation: Impact of Lipid Modulators to Improve Embryo Production. Mediators of inflammation. doi.org/10.1155/2014/692067.
Sudano MJ, Santos VG,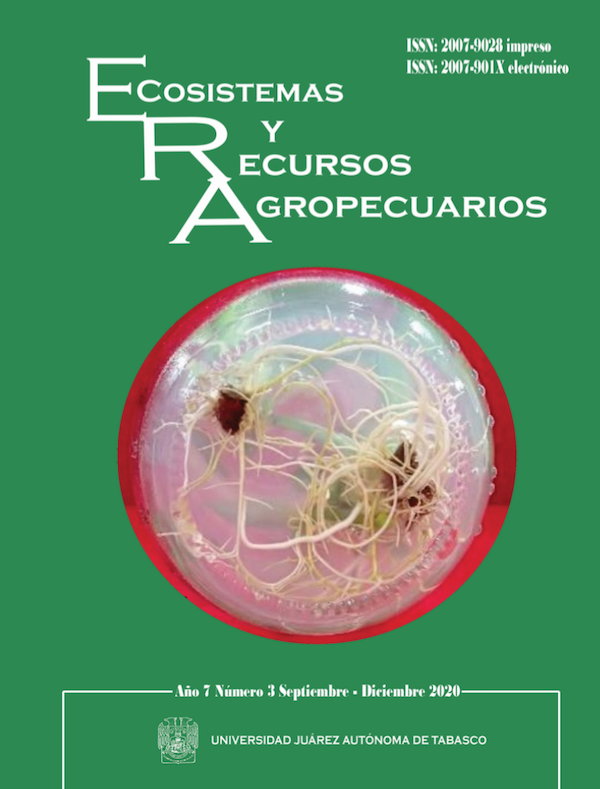 Descargas
Cómo citar
Gandeaga-Flores, I. ., Meza-Villalvazo, V. M., Sánchez-Ocampo, P. ., Capataz-Tafur, J. ., & Aguirre-Cruz, A. (2020). Efecto del ácido linoleico conjugado sobre la calidad ovocitaria en ratones hembra de la cepa cd-1. Ecosistemas Y Recursos Agropecuarios, 7(3). https://doi.org/10.19136/era.a7n3.2666
Sección
NOTAS CIENTÍFICAS
Licencia
1. Política propuesta para revistas de acceso abierto
Los autores/as que publiquen en esta revista aceptan las siguientes condiciones: 
1. Los autores/as conservan los derechos de autor y ceden a la revista el derecho de la primera publicación, con el trabajo registrado con la  licencia internacional Creative Commons Reconocimiento-No comercial-Compartir igual 4.0 .de atribución de Creative Commons, que permite a terceros utilizar lo publicado siempre que mencionen la autoría del trabajo y a la primera publicación en esta revista.
2. Los autores/as pueden realizar otros acuerdos contractuales independientes y adicionales para la distribución no exclusiva de la versión del artículo publicado en esta revista (p. ej., incluirlo en un repositorio institucional o publicarlo en un libro) siempre que indiquen claramente que el trabajo se publicó por primera vez en esta revista.
3. Se permite y recomienda a los autores/as a publicar su trabajo en Internet (por ejemplo en páginas institucionales o personales) antes y durante el proceso de revisión y publicación, ya que puede conducir a intercambios productivos y a una mayor y más rápida difusión del trabajo publicado (vea The Effect of Open Access).

Este trabajo está sujeto a una licencia internacional Creative Commons Reconocimiento-No comercial-Compartir igual 4.0 .